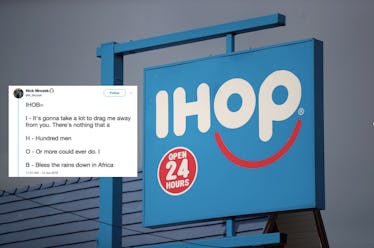 People Are Tweeting Acronyms For "IHOb" & They're Actually So Impressive
Scott Olson/Getty Images News/Getty Images
There's a likely chance you've seen a lot about IHOP in the news lately. On Monday, June 11, the pancake haven announced that they were officially changing their name to "IHOb," which stands for for International House of Burgers. People were initially devastated, but after realizing it wasn't permanent, they got in on the joke. I mean, really, the idea that IHOP would actually change their name would be straight-up hilarious. If you haven't seen these tweets about IHOb acronyms, it shows that literally everyone is down to laugh about the absurdity of IHOP's "name change."
The breakfast utopia started out by announcing in a press release that they were changing their name to IHOb. I mean, they went as far as changing their Twitter handle and their Hollywood restaurant location signage, so it was pretty believable at first. But, it turns out it was never meant to be permanent in the first place — it was merely a marketing ploy to lure customers in for lunch and to promote their new-and-improved Steakburger menu. I personally felt shocked, confused, and completely deceived by the ever-popular breakfast joint, but it definitely looks like Twitter is making light of the situation. They're coming up with ridiculous and innovative acronyms for the restaurant's fake name change, and I kind of love it.
Most of Twitter is filling in the IHOb acronym with lyrics from popular songs and poems. They're coming through with all of the greatest hits, between Toto's "Africa" and Robyn's "Dancing On My Own." There are so many potential meanings behind the acronym "IHOb," and the options are downright hilarious. Check them out below.
Other folks in the Twitterverse are finding famous lines from movies and TV shows to fill in the infamous IHOb acronym. Between the Brooklyn Nine Nine references, as well as lines from The Office, and even Law and Order, I am quite pleased to see the amount of pop cultural knowledge that Twitter is bringing to the table right now. Well done, my fellow cyber pals, well done.
Finally, an impressive portion of the Twittersphere is literally just inserting their own messages to recreate the meaning behind IHOb, and people are getting surprisingly creative. International House of Burgers was never realistic anyway, so who's to say it might not stand for "I hope twenty one pilots comes back soon?" I'm seriously down to find any alternative meanings for IHOb.
In reality, I'm actually totally over being salty about IHOP's name change, because from what I've heard, the restaurant's burger menu is supposed to be pretty lit. Each of the seven new Ultimate Steakburgers are made with 100 percent USDA choice Black Angus ground beef, and they're all pimped out in their own individual ways. The Big Brunch, for example, is a brunch-time favorite, complete with eggs, hash browns and bacon, whereas the Mega Monster has all the classics, including two types of cheese and signature IHOP sauce (and no, their signature sauce is not maple syrup). I am super excited to try these, because they look absolutely legendary.
A lot has been going on in the realm of breakfast foods. IHOP changed their name, they're now selling burgers, and now a new art form has emerged: the art of IHOb acronyms. there are too many ways this could go, and even though the restaurant has already admitted this isn't their permanent name for the long haul, I kind of hope people still continue making these acronyms. They're just too good to die out.