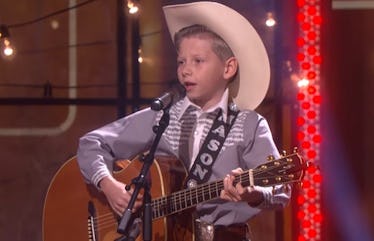 The Viral Walmart Yodeling Boy Performed At Coachella & You Need To See It
The original video of the "Walmart Yodeling Boy" — whose real name is Mason Ramsey — has accumulated more than 17 million views to date, and I'm sure I'm responsible for at least one million of them. I literally can't stop listening to the toe-tapping 11-year-old, and the fact that he's singing his heart out in the middle of a supermarket kills me every time. But now he's taken his talents nationwide, and the video of the viral Walmart Yodeling Boy performing at Coachella is even more epic than before.
Weeks before the event, Ramsey propelled to internet stardom after a video surfaced of him showcasing his impressive singing skills through a cover of Hank Williams Sr.'s "Lovesick Blues" at a Walmart in in Harrisburg, Illinois. The viral moment caught the attention of Ellen DeGeneres, who invited the 11-year-old on her show on April 10, where she presented him with a $10,000 scholarship from Walmart, as well as a chance to perform at Nashville's Grand Ole Opry on April 14.
Just when some of us thought that Ramsey had maxed out on surprises, he made his debut at the Coachella festival alongside DJ Whethan on April 13. He hit the stage rocking an over-sized cowbody hat, a red bowtie, and dark-colored boots. And the crowd immediately erupted into chaos.
Fans instantly hopped on Twitter to express their excitement of Ramsey's set, and honestly, same.
One user wrote, "YODEL BOY I JUST MET HIM IM CRYING REAL TEARS IVE NEVER FANNED OUT BEFORE."
Even Justin Bieber was rocking out, which shows just how iconic this yodeler really is.
While the crowd was undeniably feeling Ramsey's set, there had been some doubters in the moments before the show. On April 13, after news of his Coachella performance went public, Twitter users took to their pages to post tweets that expressed their distaste for the appearance.
One user couldn't fathom the set at all, writing, "The yodeling Walmart kid is doing a set at COACHELLA....i am just.......why? Why is this happening?"
I'm so glad he nailed it and put these naysayers in their place. Like, he obviously made it this far for a reason. Now if I could just figure out how to set this cover as a ringtone...
Anyway, Ramsey also reprised his performance during the Ellen show just days before Coachella. He told the host that he initially chose Walmart to showcase his skills because "that's the only store we got," and that he's performed in the store "like 50,000 times."
He also shared some of his life's aspirations. He revealed that his goal is to become a famous country singer, but added that he didn't plan on performing for long. He told DeGeneres, "I'm gonna save up all that money, and I'm gonna go to college, and I'm gonna move to Florida, and I'm gonna work my way up in a motor home."
Apparently, the Hollywood life isn't for him because he's a "country boy." He shared that, back in his hometown, "all we do is bail straws of hay and next thing you know, you sitting under a tree taking a nap with your hat down and a weed in your mouth."
This kid is so amazing and authentic, and he's left such a zany imprint in the world of social media and music that I'm thrilled to see what his future holds. Maybe he'll go on to record his very own album. Or perhaps he'll start performing at weddings. Or holiday parties. Or even birthdays — I'd totally book him for that.