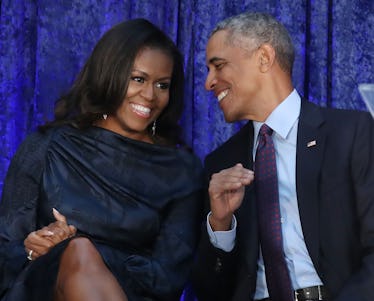 Barack & Michelle's Lives Since Leaving Office Prove They're Not Done With Politics
Mark Wilson/Getty Images News/Getty Images
On Saturday, March 24, the day that protesters around the country participated in the March For Our Lives, President Barack Obama tweeted about the demonstration on behalf of himself and first lady Michelle Obama. "Michelle and I are so inspired by all the young people who made today's marches happen," he wrote, encouraging young protesters to "keep at it." The tweet was an example of how, despite having left an official political role, the former president hasn't exactly left politics, and nothing proves that more than the timeline of Barack and Michelle Obama's lives since leaving the White House.
The Obamas' post-presidency period began with a message from the pair. "First, we're going to take a little break," Michelle said in a farewell video in January 2017. "We're finally gonna get some sleep and take some time to be with our family, and just be still for a little bit."
In the video, the Obamas also unveiled a new website for the Obama presidential center, promising that it will be a "living, working center for citizenship," with projects all over the world.
Following their departure from the White House, Barack and Michelle did indeed go on that vacation, traveling to Necker Island, where they were spotted hanging out with British billionaire Sir Richard Bronson and kite-surfing.
Even while on vacation, though, Obama showed support for those protesting a travel ban issued in January 2017 by President Donald Trump on a group of majority-Muslim countries. "The president fundamentally disagrees with the notion of discriminating against individuals because of their faith or religion," a statement from President Obama's spokesman, Kevin Lewis, said.
As pictures of Obama on vacation continued to circulate on social media, tweets about supporters missing the former president became a theme on social media.
The Obamas would return from vacation in early February 2017, with photos showing them still clearly in holiday mode. After their return from the Caribbean, a search for new interns for their Washington D.C. office began.
There was more traveling to be done, though, specifically for Barack and daughter Malia Obama. Both were spotted together having dinner and visiting a Broadway show in New York City, where the former president paid a visit during the latter half of that February.
March 2017 began with the Obamas having a new book deal under their belt, with The New York Times reporting that Penguin Random House won a "heated" bidding war among publishers for the rights to publish Barack and Michelle's work.
The Times has since reported that a memoir by Michelle will be published in November 2018. The Obamas had largely stayed out of the political limelight since Trump issued his travel ban, but Barack again became part of the new cycle when Trump accused him of wiretapping Trump tower, an accusation that reportedly made the former president "livid."
Still, the former president appeared to have much to be happy about, with Conde Nast Traveler reporting in mid March 2017 that Barack would be away in French Polynesia for a month. Meanwhile, Republicans in Congress plotted a repeal of Obamacare. That would become a theme of the Obamas' post-presidency life: while they enjoyed a trip abroad, the new administration at home threatened to unravel their legacy.
April 2017 brought stories of the Obamas traveling with celebrities. The pair was reported to have been partying on a luxury yacht cruise with Oprah and Tom Hanks. Later in the month, Michelle made one of her first public appearances, speaking at an architecture conference in Orlando, where she said she has no plans to run for office.
"I wouldn't ask my children to do this again because, when you run for higher office, it's not just you, it's your whole family," the former first lady said at the conference. Around the same time, President Obama led a forum at the University of Chicago.
By the time the Spring of 2017 rolled around, public appearances for the Obamas were no longer as rare as they had been during the first months of the Trump presidency. President Obama's paid public speeches had even become a point of criticism coming from fellow Democrats.
The Obamas' name also continued to reappear in news headlines, with a new biography about the couple claiming that the former president almost married another woman. Days later, while accepting an award, Barack would jokingly praise Michelle for "sticking by him" after the presidency ended.
The former president would continue to release statements related to politics and the Trump administration's efforts to repeal what the Obamas regarded as key policy achievements. That means Obama would speak out when House Republicans voted for an Obamacare repeal, and when Trump pulled out of the Paris climate agreement.
"The nations that remain in the Paris Agreement will be the nations that reap the benefits in jobs and industries created. I believe the United States of America should be at the front of the pack," President Obama said in his statement.
Days later, it was back to post-presidency business as usual for Obama: meeting with world leaders, but in a much more relaxed manner than he would during his time at the White House. The start of President Obama's summer was highlighted by meetings with Canadian Prime Minister Justin Trudeau and Indonesian President Joko Widodo. The latter of those meetings took place while Barack, Michelle, and their daughters vacationed in Indonesia.
During the summer, the Obamas had largely returned (again) to staying out of the political limelight, and the biggest story the former president would comment on was John McCain's cancer diagnosis. "John McCain is an American hero & one of the bravest fighters I've ever known. Cancer doesn't know what it's up against. Give it hell, John," Obama tweeted on July 19.
Things changed in August however, when a white supremacist rally in Virginia prompted Obama to weigh in on current affairs again.
Later the same month, both Barack and Michelle engaged in a rite of passage for many parents: sending their first child off to college and helping Malia move into Harvard.
The next month, September 2017, saw the former president directly opposing the current administration, with President Obama releasing a statement about Trump rescinding DACA and, during a speech, slamming yet another Republican effort to repeal Obamacare.
"This is about young people who grew up in America — kids who study in our schools, young adults who are starting careers, patriots who pledge allegiance to our flag," Obama said about Trump's DACA decision. "These Dreamers are Americans in their hearts, in their minds, in every single way but one: on paper."
Obama ended his September hanging out with Prince Harry at the Invictus Games. There, the two recorded an interview that was released shortly before the new year.
Around October 2017, the Obamas took on their most notable work for the Obama Foundation. The foundation opened applications for fellowships and held a summit in Chicago that began on Halloween. During the summit, Prince Harry joined the Obamas again, dedicating one appearance to surprising students at a Chicago school with Michelle. At the summit, President Obama delivered a keynote speech that implored attendees to improved American culture.
"The moment we're in right now, politics is the tail and not the dog," the former president said. "What we need to do is think about our civic culture, because what's wrong with our politics is a reflection of something that's wrong with the civic culture, not just in the United States but around the world."
One of Michelle's highlights at the summit, meanwhile, came when she wondered whether young men were being "protected" too much.
A week after the summit ended, President Obama would get another taste of what ordinary life is like for those who aren't in the White House. On Nov. 8, he headed to jury duty in Chicago, and ended up signing books along the way.
In December, the former president played the role of Santa while he visited a Boys and Girls Club in Washington D.C. Obama also continued his tradition of unveiling his favorite books and songs of the year.
In January, Michelle Obama celebrated her birthday with the help of flowers Barack order for her. "You're my best friend, biggest fan, and getting notes and flowers from you will never get old," the former first lady said in an Instagram post. "And to the many people from around the country who sent cards and posted on social media, you have no idea how much we love hearing from you."
That same month, President Obama was announced as the first guest of a new David Letterman series on Netflix. During the appearance, he talked about an ability to lead the country.
In February came the Obamas' big day, when their respective portraits were revealed at the Smithsonian's National Portrait Gallery in Washington D.C. President Obama made it clear he was a fan of the artwork, too, congratulating artist Amy Sherald for capturing Michelle's "hotness."
In March, President Obama headed to Japan. And while it's unclear what exactly he and Michelle plan to do with the rest of their 2018, the former president made it clear that they want to inspire more leaders.
"After I left office, what I realized is that the Obama Foundation could potentially create a platform for young, up-and-coming leaders, both in the United States and all around the world to come together, meet together, create a digital platform where they could exchange information," President Obama said at a conference in Tokyo, per The Guardian.
He later added, "If I could do that effectively, you know, I would create a hundred, or a thousand, or a million young Barack Obamas or Michelle Obamas."