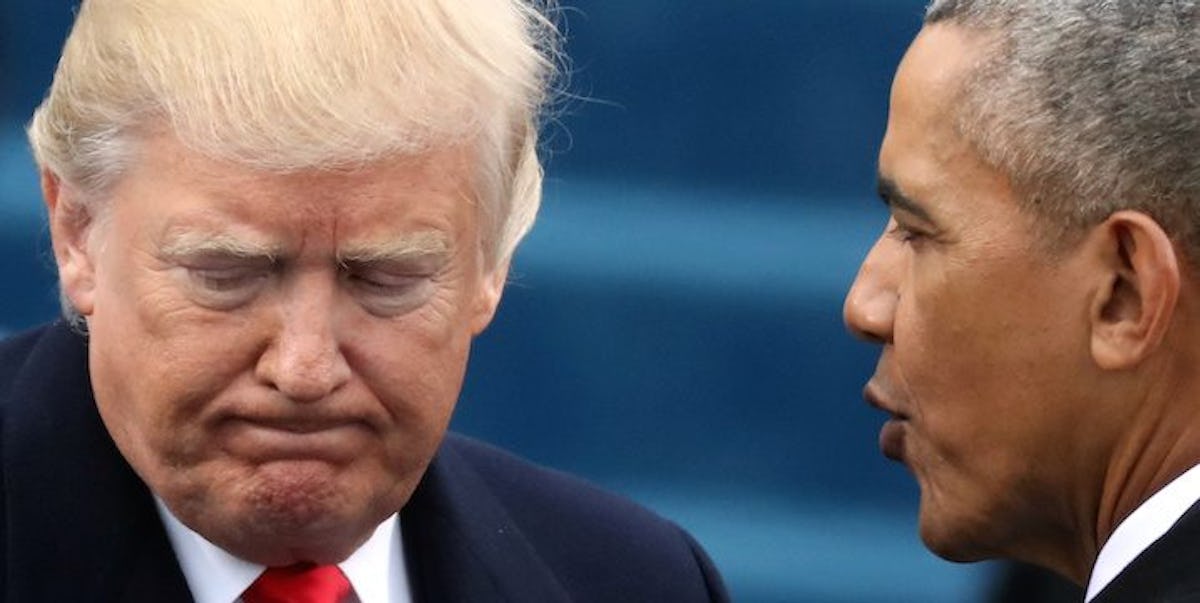 Obama's Powerful Statement On Trump's Immigration Ban Is The Motivation We Need
REUTERS
Barack Obama has released his first official statement since ending his presidential term on January 20 — and it's all about President Donald Trump's ban on immigrants and refugees.
On Friday, January 27, Trump signed executive orders issuing a temporary ban on immigrants from seven countries — that all happen to be majority-Muslim. Trump's orders also banned refugees and created a religious test for future refugee entrances, prioritizing Christians.
These orders led to chaos over the weekend as immigrants and refugees were stranded at airports.
With these orders, protests broke out at airports and cities around the country against Trump's discriminatory bans. Thousands gathered across America to speak out against Trump's immigration policies.
Obama's first official statement post-presidency is all about those protests. This also includes the global Women's March last weekend and other demonstrations going on to speak up for people's rights and values.
The statement was issued through Kevin Lewis, Obama's spokesman as a former president.
In the statement, Lewis says Obama is "heartened by the level of engagement taking place in communities around the country."
He adds that this follows the message of Obama's final speech as president, which was about getting involved in politics and you need to be actively engaged for democracy to work.
Lewis goes on to say for Obama,
Citizens exercising their Constitutional right to assemble, organize and have their voices heard by their elected officials is exactly what we expect to see when American values are at stake.
Some members of the Trump administration are trying to make the claim that the immigration ban was based on Obama's own policies.
This is directly addressed in the statement, although "Trump" and "Muslim" are not included explicitly. Lewis says,
The president fundamentally disagrees with the notion of discriminating against individuals because of their faith or religion.
Trump famously led a racist campaign to delegitimize Obama's presidency, which included indicating Obama was secretly Muslim.
Citations: Obama supports protests: 'American values are at stake' (Politico), Obama statement on the protests of Trump's Executive Order (Twitter)