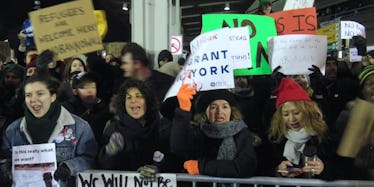 10 Powerful Images From The JFK Airport Protest Against Trump's 'Muslim Ban'
John Haltiwanger
On Saturday, protestors swarmed Terminal 4 at JFK International Airport in response to President Donald Trump's broad executive order that impacts refugees and citizens of a number of predominately Muslim countries.
It was a cold day in New York, but that didn't stop people from coming out.
People chanted "let them in" because Trump's executive order, issued on Friday, suspends the entry of all refugees for 120 days.
It also suspends the entry of Syrian refugees indefinitely.
On top of all this, it suspends the entry of people from seven predominately Muslim countries: Iraq, Syria, Iran, Sudan, Libya, Somalia and Yemen.
The executive order went into effect immediately and is so sweeping that it even impacts green card holders and dual citizens.
On Saturday, two refugees were detained at JFK international airport. Both men have ties to the US military, and one reportedly worked as an interpreter alongside US soldiers in Iraq.
The American Civil Liberties Union (ACLU) immediately took action against Trump's executive order, and filed a lawsuit on behalf of the two men who were detained.
This ultimately led a federal judge to issue an emergency stay that temporarily permits refugees and others detained or stranded at American airports as a result of the executive order to remain in the US if they have a valid visa.
In other words, these individuals will not be deported back to their home countries.
This doesn't not mean Trump's executive order is going away but it's still big news.
President Tump has already suffered his first loss in court, just a week into his presidency.
A huge number of people came to JFK to protest Trump's "Muslim ban."
This also occurred just seven days after the Women's March, which saw millions of people demonstrate against Trump both in the US and across the world.
Here are 10 images from the JFK protest that capture the passion of the people who came out to support refugees and Muslims.
There were protesters of all ages.
"My grandparents were refugees."
"Love wins."
Many protesters held signs that referenced "The New Colossus," a poem inspired by refugees that is engraved on a plaque inside the pedestal of the Statue of Liberty.
"No borders."
"The ban is evil."
"No borders. No nations. No deportations."
"We are all American. Don't attack Muslims."
"Try me."
On top of being met with backlash from the American public and civil rights groups, the United Nations also condemned Trump's executive order, Canadian Prime Minister Justin Trudeau announced his country would accept refugees banned by the US and Iran said there would be "reciprocal measures" against America for Trump's "Muslim ban."
So, both domestically and internationally, people are rising up against Trump.
At the moment, 50 percent of Americans disapprove of the job Trump is doing, according to Gallup, which helps explain why there have been mass protests against him two Saturdays in a row.
There were protests at multiple airports across the US on Saturday, but the JFK protest seemed to garner the most attention.
To see more, watch Elite Daily's Facebook Live from JFK International Airport last night: