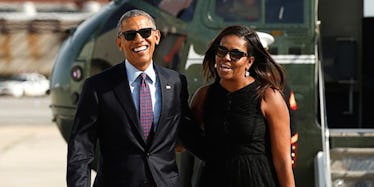 The Obamas Are Clearly Still In Vacation Mode In First Pic Of Them Back In DC
REUTERS
Last month, former president Barack Obama said his final goodbyes to the White House and jetted off to Richard Branson's private island in the Caribbean for some very well-deserved rest and relaxation with his wife.
Now, the Obamas are back in Washington DC and are ready to start the next phase of life in their new $4.3 million home.
The Obamas' nine-bedroom house is nestled in Kalorama, which is known as one of DC's nicest neighborhoods. In fact, it's located just two blocks from Ivanka Trump and Jared Kushner's new $5.5 million mansion.
On Thursday, paparazzi lined up to welcome Barack and Michelle Obama after their 10-day vacation in paradise.
However, based on the first photos snapped since the the couple returned to the capitol, it seems the Obamas are still in vacation mode.
Yes, Michelle. We're looking at you and your chill AF straw hat.
The Obamas looked as happy as ever upon arriving at the airport in a red helicopter.
Their motorcade passed countless signs on neighbors' lawns that welcomed the former first family back before they finally pulled up to their new house.
It's believed that Barack and Michelle Obama had been vacationing in Moskito, a private, eco-resort island owned by Richard Branson.
Although the whole Obama family was spotted together in Palm Springs right after the former president left office, it appears Barack and Michelle decided to leave their daughters at home for their Caribbean getaway.
Apparently, Malia is in New York for her internship with Harvey Weinstein, while Sasha is believed to be back at the Obamas' new home in Washington DC.
On Tuesday, photos surfaced of the Obamas having lunch on Moskito Island, although it was reported that employees on the island were prohibited from carrying smartphones during the former president's stay.
The Obamas were also spotted having lunch at the beachfront restaurant, Cow Wreck Beach Bar, with Branson on the island of Anegada.
It you take a closer look at their snapshots, you can see Barack Obama was straight chillin' in a backwards baseball cap that day.
In fact, it appears the Obamas traded in their typical formalwear for casual resort digs for most of the trip, wearing mainly shorts, sandals and hats.
Barack and Michelle were also captured in another video that showed them waving as they boarded a helicopter with Branson.
Obama has yet to say much about Trump's new position in office.
Then again, you can't really blame Obama for not wanting to deal with all of those work-related issues while he's sipping piña coladas out of a coconut on a tropical beach vacation.
However, Obama did take some time out of his vacation to release a statement through a spokesperson, in response to Trump's immigration ban.
It said,
President Obama is heartened by the level of engagement taking place in communities around the country. Citizens exercising their Constitutional right to assemble, organize and have their voices heard by their elected officials is exactly what we expect to see when American values are at stake. With regard to comparisons to President Obama's foreign policy decisions, as we've heard before, the president fundamentally disagrees with the notion of discriminating against individuals because of their faith or religion.
But now that their vacation is over, it looks like Obama is going to have to get back to work and trade in his backwards hat for a briefcase.
Citations: EXCLUSIVE PHOTOS: Home sweet home! Neighbors welcome the Obamas back to their $4.3 million new D.C. home (Daily Mail)