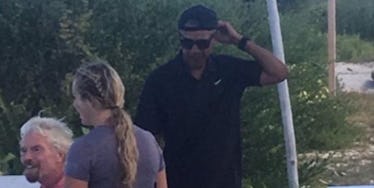 Barack Obama's Fratty Vacation Outfit Has Entire Internet Making The Same Joke
Twitter
Former President Barack Obama is in full chill mode now that he's no longer in the White House.
He's on vacation with Michelle Obama in the British Virgin Islands, and he seems to be thoroughly enjoying himself.
After many years of public service, he deserves a little break.
Here he is, Barack Brobama himself, chilling with Richard Branson.
People can't get over what a bro Obama looks like with his backward hat. And he broke out the flip-flops too?! Yeah, he's definitely never coming back.
I assume this was right after he beat Branson in beer pong?
He's not like the other dads — he's a "cool dad."
Back in black.
He inhaled frequently. That is "the point."
It's so hard to see your ex (president) having a great time without you. Now we know how Bella Hadid and Justin Bieber feel.
But, the truth is, Barack Obama isn't completely gone from our lives now that he's no longer president.
In fact, he took some time out of his tropical getaway to address the recent protests against President Donald Trump's controversial travel ban.
Obama spokesman Kevin Lewis issued a statement from the former president that strongly defended the right of protesters to peacefully assemble. It said,
Citizens exercising their Constitutional right to assemble, organize and have their voices heard by their elected officials is exactly what we expect to see when American values are at stake.
The statement also offered a rebuke of Trump's travel ban, which targets refugees and people from seven predominantly Muslim countries.
The president fundamentally disagrees with the notion of discriminating against individuals because of their faith or religion.
Obama might have his hat flipped backward, but he's still got his head on straight and he's definitely not ignoring what's happening in our country right now.