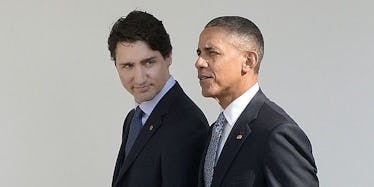 Obama And Trudeau Had A Dinner Date And Twitter Is Swooning Over Their Bromance
Olivier Douliery-Pool/Getty Images
Canadian Prime Minister Justin Trudeau and former President Barack Obama had dinner together on Tuesday night, and people on Twitter can't handle the pictures.
Perhaps it's simply because both men are extremely popular, or maybe the images made people nostalgic for a time (pre-Jan. 20, 2017) when leaders met to discuss important matters in complete sentences instead of spending each day tweeting their incoherent stream of consciousness.
Who knows?
But, yeah, people went nuts.
It's almost like they knew people needed this.
Is Biden jealous?
It's not dinner if there's no covfefe.
"I wish I knew how to quit you."
Bros forever.
This is what love looks like.
They even hugged it out as they departed. #BroHug
Prior to his dinner date with Trudeau, Obama addressed a crowd of 6,000 people at the Montreal Board of Trade.
While the former president didn't explicitly mention President Donald Trump during his speech, he took a jab at him by referencing the "temporary absence of American leadership" in relation to the Paris climate accord.
Last week, Trump withdrew the United States from the Paris climate treaty, a move that was condemned by leaders worldwide.
More than 190 countries are participating in the Paris climate deal, a global agreement to combat climate change and reduce greenhouse gas emissions.
Due to Trump, the United States is one of just three countries, other than Nicaragua and Syria, to not participate in the deal.
Speaking on this recent development, Obama said Tuesday,
Obviously I'm disappointed with the current American administration's decision to pull out of Paris, but all that work that we did is now embedded in decisions that are being made by companies all around America and all around the world.
Obama also took a stand against embracing isolationism and said, "That's a recipe for more cynicism and more polarization, less trust in our institutions and less trust in each other."
"And it's part of what leads people to turn to populist alternatives that may not actually deliver," he added.