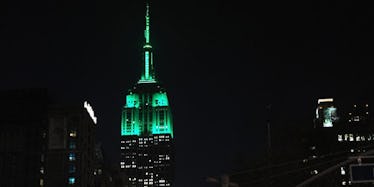 10 Global Pics That Prove No One's Happy About Trump's Paris Agreement Decision
Craig Barritt / Stringer/ Getty Images
In a clear response to President Donald Trump's decision to pull out of the Paris climate accord, monuments around the world lit up green in support of the global agreement.
From Montreal to Mexico to France, some of the globe's most famous bridges, buildings, and landmarks took on a new image in a show of solidarity for action against climate change.
Paris' L'Hôtel de Ville, aka City Hall, joined in the movement.
Montreal and Mexico City did the same.
Montreal salutes you and supports you Bill. Cities from the world supports #ParisAgreement pic.twitter.com/U3nLbxcVPs — DenisCoderre (@DenisCoderre) June 2, 2017
And even though the series of landmarks stood in implicit opposition to America's federal government, that didn't stop American monuments from sending the same message.
In New York, the Freedom Tower, Empire State building, and City Hall, among others, also lit up green.
Boston's mayor followed suit.
And the Wilson Building in Washington D.C. did not follow the White House's lead
Elsewhere, some people were more creative with their forms of protest.
In Berlin, a German political party marched outside of the U.S. embassy.
The reaction from different cities across different countries isn't surprising, of course. Nearly 200 countries signed on to the Paris Climate Accord, with the U.S. now joining just Syria and Nicaragua as the only nations not involved.
On the other hand, there was also some notable support for pulling out of the agreement.
Before President Trump formally announced his decision on Thursday, 20 Republican senators wrote a letter advocating for a withdrawal from the pact.
The letter read,
We applaud you for your ongoing efforts to reduce overregulation in America. To continue on this path, we urge you to make a clean exit from the Paris agreement so that your administration can follow through on its commitment to rescind the Clean Power Plan.
Following Trump's announcement of plans to actually follow through with the withdrawal, Democratic politicians, most notably those from cities whose city halls participated in the green-out, pledged to follow the initiatives of the Paris agreement.
According to the New York Times, an unnamed group of leaders includes 30 mayors, 80 university presidents and over 100 companies who plan to address the United Nations and pledge to meet the targets agreed to by President Obama.