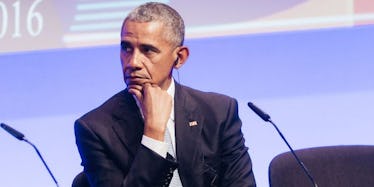 Obama Says Trump Administration "Rejects The Future" By Dropping Paris Agreement
Alexander Scheuber/Getty Images
Former President Barack Obama spoke out against President Donald Trump's decision to withdraw from the Paris climate accord on Thursday.
Trump made his announcement from the Rose Garden of the White House. He said he made his decision because the deal was "non-binding" and "draconian," but added that he could consider renegotiating.
Obama was having none of that.
He made that clear in a statement he put out on Thursday about Trump's decision:
In a statement put out by the office of Barack Obama on Thursday, the former president discussed the origin of the Paris agreement, which was signed in December 2015.
Obama is a big supporter of combatting climate change and was at the head of making the Paris climate accord a reality.
"It was steady, principled American leadership on the world stage that made that achievement possible," Obama said in the statement, which is a bit of a humblebrag to be honest.
Obama went on to say that "bold American ambition" brought the other countries on board to the agreement. Moreover, he said, America's work in wind and solar industries also helped move other countries to join, as those industries "created some of the fastest new streams of good-paying jobs in recent years, and contributed to the longest streak of job creation in our history."
Obama said he still has hope that the agreement will help -- those countries that are still in it.
The countries that are still part of the accord -- those that "committed themselves to that future," according to Obama -- will see the unleashing of "high-tech, low-carbon investment and innovation on an unprecedented scale."
Obama concluded his statement by saying,
The nations that remain in the Paris Agreement will be the nations that reap the benefits in jobs and industries created. I believe the United States of America should be at the front of the pack. But even in the absence of American leadership; even as this Administration joins a small handful of nations that reject the future; I'm confident that our states, cities, and businesses will step up and do even more to lead the way, and help protect for future generations the one planet we've got.
Obama's note that the world is lacking "American leadership" on climate change echoes comments made by German Chancellor Angela Merkel this week.
She said, "We Europeans must really take our destiny into our own hands."
America now joins Nicaragua and Syria as the only countries not signed on to the accord.
Obama was not the only one to speak out about Trump's decision.
Former Vice President Al Gore also put out a statement, in which he called Trump's withdrawal "a reckless and indefensible action."
Gore said the decision "undermines America's standing in the world and threatens to damage humanity's ability to solve the climate crisis in time." So that's intense.
Like Obama, Gore said that he trusts that local leaders will take on climate change where the president has dropped it.
"We will ensure that our inevitable transition to a clean energy economy continues," Gore concluded.
Citations: Angela Merkel says Germany can no longer rely on Donald Trump's America: 'We Europeans must take our destiny into our own hands' (Independent)