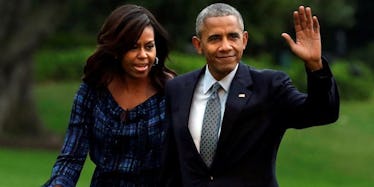 Obamas Sign Book Deal With Penguin Random House After Bids Reached $60 Million
REUTERS
So, what's life like for the Obama family following Barack Obama's 8-year presidency?
Aside from hanging out with Richard Branson and being a total rockstar while randomly out and about in New York City, it turns out the former president and the former first lady will release memoirs.
According to the New York Times, Penguin Random House became the book publisher that will publish the Obamas' books after a "heated auction" between other publishers.
While the exact terms and details of the book deal have not yet been finalized or made public, sources familiar with the bidding process expect the bids to have reached nearly $60 million.
The report states Robert Barnett and Deneen Howell of Williams & Connolly were the representatives on-hand representing Barack and Michelle Obama.
Penguin Random House will reportedly have world rights to the memoirs. Worldwide sales of the Obamas' books are expected to be "substantial."
As expected, the Obamas will also donate a generous portion of the profit generated from the sales to a number of charity organizations including the Obama Foundation.
Chief Executive of Penguin Random House, Markus Dohle, released a statement regarding the new deal, saying,
We are absolutely thrilled to continue our publishing partnership with President and Mrs. Obama. With their words and their leadership, they changed the world, and every day, with the books we publish at Penguin Random House, we strive to do the same. Now, we are very much looking forward to working together with President and Mrs. Obama to make each of their books global publishing events of unprecedented scope and significance.
I'm not too sure about you, but I've been waiting on these two memoirs for two presidential terms. If anyone has a story to tell, it's President Obama and First Lady Michelle Obama.
I do have one question, though... Is there any way we can cut Joe Biden in on the deal and get him to narrate the audiobooks?! Make it happen (please).
Citations: Obamas Make Book Deal With Penguin Random House (New York Times)