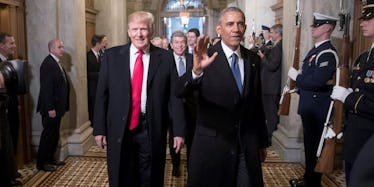 Obama's Unusual Reaction To Trump Wire-Tapping Claims Will Make You Want To Cry
REUTERS
Whether you love him or hate him, you have to accept it takes a lot to piss off Barack Obama.
I mean, the guy had the most stressful job in the world for eight years, but aside from a few gray hairs on his head, the rigors of the job rarely showed.
The former president always managed to stay calm and collected — so it says a lot that he has completely lost his cool over the latest accusations from his predecessor.
Obama maintained a dignified silence when Donald Trump made an unsubstantiated claim he wasn't born in the US, but he is reportedly "furious" about Trump's wire-tapping allegations.
In fact, sources close to Obama told The Wall Street Journal he is "livid" about Trump's accusation that he monitored the phones at Trump Tower in the run-up to last year's election.
Trump's claims were made without any evidence and were immediately torn apart by the FBI, as well as Obama's intelligence chief.
But Obama is apparently not happy about the latest attack on his legacy by Trump, who made the extraordinary claim in a series of tweets on Saturday.
The Wall Street Journal reported people familiar with Obama's thinking said the tweets undermined "the integrity of the office of the president and Mr Obama himself."
It's no secret the pair have a frigid relationship at best, but the sources added the two men have not spoken since Trump's inauguration.
The former president's loss of composure comes in stark contrast to when we last saw Obama, when he and Michelle looked totally chill on a date in Washington DC.
FBI director James Comey was among the authorities to reject the wire-tapping claim, and White House staffers have declined to explain Trump's thinking behind the allegations.
But it takes an awful lot to get under Obama's skin, and that's something the new president has clearly managed to do.
Citations: Rapport Between Donald Trump, Barack Obama Crumbles (Wall Street Journal)