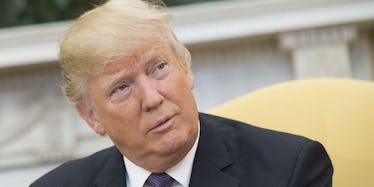 Trump Says Obama Wire-Tapped His Phones During Election, Provides No Proof
REX/ Shutterstock
Donald Trump is at it again with the troll-like Twitter rants, and boy, is this one a doozy.
The president began his Saturday morning by vigorously typing unjustifiable accusations against former president, Barack Obama.
In a series of tweets, Trump claimed Obama wire-tapped his phones inside Trump Tower in October 2016 just before a "very sacred" election process.
On top of the mind-boggling accusations, Trump compared Obama to former President Richard Nixon and the Watergate Scandal.
He even went so far as to call Barack a "bad (or sick) guy." But, uh, he doesn't look sick.
The aggressive tweets -- which Trump has yet to provide evidence for -- began early March 4 and start with him insisting Obama was monitoring his calls in Trump Tower and that no information was found.
"This is McCarthyism!"
The POTUS continues with another fiery tweet that calls Obama's unconfirmed wire-tapping "a new low."
Apparently, he thinks a "good lawyer" will help him with his wire-tapped scenario.
Trump then begins to question how long Obama's been wire-tapping his phones for, comparing his accused actions to the Watergate Scandal.
Obama, do you have anything to say about these accusations?
Since beginning his troll-like Twitter rant, Donald Trump has yet to confirm where he received information about Obama's alleged wire-tapping.
However, it's been reported the Pro-Trump media, such as Breitbart, might've led Trump to believe his accusations were true.
The news station has been known to accuse Obama for undermining Trump during the election process, per BuzzFeed News.
Another reported segment that may have inspired Trump to believe Obama wire-tapped his phones was a radio show that aired on Thursday night where conservative host Mark Levin made claims that Obama used surveillance techniques to keep an eye on Trump.
I suppose we'll sit tight with our eyes glued to our computer screens and wait for Donald Trump to give us clear evidence behind his insane allegations that Obama wire-tapped Trump Tower.
Until then, can we call his tweets fake news?