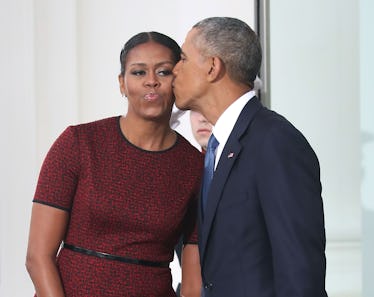 Michelle Obama Posted The Sweetest Message To Barack Obama On Her Birthday
Mark Wilson/Getty Images News/Getty Images
True love is real people, and the Obamas prove it. Today, Jan. 17, marks the day when Michelle Obama came to grace us with her existence. So, in celebration of her 54th year of being an absolute queen on this earth, Michelle Obama posted an adorable Instagram thanking her husband Barack Obama for her romantic birthday flowers. We're swooning.
The Instagram, which shows a bundle of beautiful flowers along with a note clearly addressed to "Michelle," proves that Michelle Obama can deliver a quality photo that rivals any Millennial's Instagram aesthetic.
However, it's really the caption that takes the cake, where she not only thanks her husband for the gifts, but also the entire public for wishing her a happy birthday. She writes,
Thank you @BarackObama for the beautiful flowers waiting for me in the office this morning. You're my best friend, biggest fan, and getting notes and flowers from you will never get old. And to the many people from around the country who sent cards and posted on social media, you have no idea how much we love hearing from you. I know birthdays can sometimes be bittersweet (54!), but your messages of hope, generosity, and warmth have always reminded me how lucky and blessed we are.
I'm emotional.
From Barack Obama wishing Joe Biden a happy birthday with one of their famous bromance memes, or Michelle Obama posting a heartwarming #tbt birthday message to her husband, it's safe to say that the Obama's happy birthday game has always been on point.
Just. Look. At. This.
It's too much.
And this.
Would it be too much to petition that every day be an Obama birthday?
So how do the Obamas celebrate birthdays now that they're out of the White House? Apparently by enjoying some sunshine. On Jan. 16, photos surfaced from BET of Michelle Obama hitting the beaches of Miami along with daughters Sasha and Malia, all while rocking some matching swimsuits. Too adorable.
To celebrate the former FLOTUS's birthday today, there's been an overwhelming amount of messages from media outlets and loyal fans alike. The impact Michelle Obama has had on the world today is truly unparalleled, from her achievements in and out of the White House. Her 2010 "Let's Move" campaign shed light on the epidemic of childhood obesity, not only urging more children to get out and exercise, but also helping redesign school lunch programs as well as increase the access to healthier foods for all.
Despite "Let's Move" arguably being her most well-known initiative, Michelle Obama didn't stop there. In 2014 she introduced her "Reach Higher" Initiative, which was made to inspire the younger generation to take charge of their personal education by not only completing high school but go on to attend college and universities. Her 2015 "Let Girls Learn" project, which aimed at urging young girls to stay in school, soon followed after.
As if the Instagram wasn't enough to have us all in our feelings, a visit to Michelle Obama's biography on the WhiteHouse.gov site will certainly have you reminiscing on the good times. Her biography reads,
When people ask Michelle Obama to describe herself, she doesn't hesitate to say that first and foremost, she is Malia and Sasha's mom. But before she was a mother — or a wife, lawyer, or public servant — she was Fraser and Marian Robinson's daughter.
I'm not crying. You're crying.
In addition to her countless achievements of being first lady, let's also never forget the times Michelle Obama totally broke it down on the dance floor, mom-style.
Happy birthday Michelle, and I hope you turnip for your 54th birthday. You deserve it.