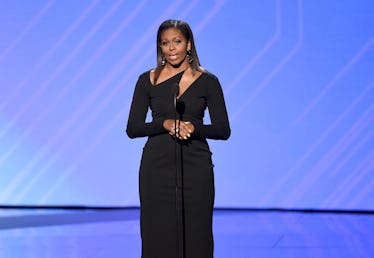 Michelle Obama Telling Dudes, "Get You Some Friends" Is Everything Right Now
Kevin Winter/Getty Images Entertainment/Getty Images
Female friendships can be some of the most important, intimate bonds out there. You can turn to your girlfriend to discuss just about anything — from the deep, personal stuff to the "What the f*ck does this text even mean?" Sadly, male friendships don't seem to have quite that same level of intimacy. But don't just take it from me — Michelle Obama thinks so too. Video of Michelle Obama telling dudes to "get some friends" is literally spot-on. Also, is it possible that she just became even more lovable?
On Oct. 31, Barack and Michelle Obama kicked off the Obama Foundation Summit, a two-day long series of conversations with artists, entrepreneurs, and royalty (Lin-Manuel Miranda and Prince Harry were in attendance).
During Obama's conversation with poet Elizabeth Alexander on Nov. 1, Michelle Obama talked about advocating for children, being cautious on social media, and changing the dynamics of male friendships. She quipped to the men in the audience, per Newsweek,
Y'all should get you some friends. Y'all need to go talk to each other about your stuff, because there's so much of it! Talk about why y'all are the way you are.
Amen. Plus *bonus points* guys — it's so fun to have someone to talk things out with. And they'll always tell you're not crazy for feeling whatever feeling you're feeling.
The call to de-bottle male emotions was part of a larger discussion of gender and relationships.
Obama also delved into the unbalanced power dynamic between men and women, and noted that there's some onus on parents to change that from the beginning. She said,
We raise our girls to be strong, and sometimes we take care not to hurt men. And I think we pay for that a little bit. ... It's powerful to have strong men, but what does that strength mean? Does it mean respect, does it mean responsibility, does it mean compassion, or are we protecting our men too much, so that they feel a little entitled, a little self-righteous?
"That's on us as women, too," she added. "We nurture men and push girls to be perfect."
Too real.
Of course, Obama discussed the foundation's larger mission as well.
The Obama Foundation, which was established in 2014, aims to bring together a community of artists, activists, filmmakers, politicians, and writers to mentor a younger generation of leaders.
"Hope is right in this room," she said. "This summit, all of you here, the conversations, your voices, your missions, the goals… the possibilities you all have to be leaders in the world. I can sleep better after this because it's not just happening here, it's happening around the world."
One of the foundation's ideas includes filling the streets of South Chicago with art... and seriously, did I mention how much I love this couple?
"When you think about how little public art there is on the South Side… (that) is one of the things we hope to do with the Obama Presidential Center," she said. She continued,
There need to be places for public art outside. Just like downtown. Just like Picasso. Just like The Bean. There's nothing. Those pieces in communities are few and far in between. And they become the gathering places for a community, not just a place to see beauty and possibility.
Her husband had an equally delightful take on the work he hopes the Obama Foundation will do, saying during his opening remarks,
"Our goal here is not to create a political movement," Barack Obama said. "Some of you may be aspiring to be politicians and I believe firmly in politics. But I also believe that the moment we're in right now, politics is the tail and not the dog. What we need to do is think about our civic culture."
*Sigh.* It's nice to see that the Obamas are still out there, doing their thing, and trying to make the world a better place. And men, if you're listening, do Michelle a favor and dig a little deeper with your friends. I will lend you all my DVDs of Sex and the City. Trust me, you'll love it.