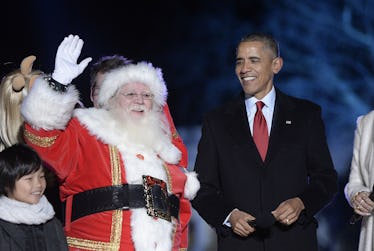 Barack Obama Surprised Kids For Christmas & The Video Will Give You Ho Ho Hope
Pool/Getty Images News/Getty Images
Adorable photos and videos of Barack Obama interacting with kids were such a constant during the eight years of his presidency that they almost outweigh his bromance with Joe Biden as the cutest thing about 2008-2016 (sorry Joe). But even if he's left the office, Barack Obama clearly hasn't lost his taste for being the best/lamest dad who ever donned a Santa hat and embarrassed his teenagers. Which is why this video of Barack Obama in a Santa hat, surprising a bunch of kids at a Boys and Girls Club in Washington D.C., is the little piece of Christmas cheer we need this holiday season.
On Dec. 14, Obama showed up at the Jeffell Club in northeast Washington, wearing a leather jacket, a Santa hat, and carrying what looked like a satchel full of toys over his shoulder. A video taken by his communications director, Katie Hill, and posted to Twitter showed the former president surrounded by excited children who bounced up and down, took photos, and competed to shake his hand. And of course, the video captured Obama himself with a great big smile as he moved through the pint-sized crowd, shaking hands and saying hellos.
"How are you doing? Nice to see you," he told one (very composed) little girl. And like a true Santa, never once did he put down that satchel.
According to The Washington Post, Obama spent about half an hour at the club, where he brought gifts and hung out with the crowd of about 50 middle schoolers and staff.
Obama himself tweeted out a photo of the hangout sesh shortly after 5:30 p.m. ET on Thursday. "There's no better time than the holiday season to reach out and give back to our communities," he captioned it. "Great to hear from young people at the Boys & Girls Club in DC today."
Yes, he was still wearing that Santa hat.
Obama's legendary child-handling abilities have been known for years, from his baby-whispering magic to his, uh, encouragement of young people's interest in the sciences. But damn if I'm not still charmed every time the man hangs out with a group of kids and helps them fire their marshmallow cannon or whatever. Add Christmas and a silly hat to the mix, and it's kind of just too perfect.
Surprise visits to kids' organizations aren't exactly out of character for the president, though. Since leaving office, the Obamas have invested their time heavily in youth empowerment, and have made appearances — often a surprise, like tonight's event — at schools, clubs, and organizations for young leaders. Back in September, Obama surprised students at McKinley Tech High School (also in DC), showing up to welcome them back to their first day of classes. Obama tweeted about that, too, writing, "Proud of these McKinley Tech students — inspiring young minds that make me hopeful about our future."
And on Halloween, former First Lady Michelle Obama, along with Obama family friend Prince Harry, surprised a group of high schoolers at Hyde Park Academy in Chicago. The pair led a conversation with 20 high schoolers, discussing keeping students inspired and the Obama Presidential Center in progress nearby, which is intended to "showcase the South Side of Chicago to the world," according to Kensington Palace's tweets about the event. Obama himself had visited the same school back to learn about the "Becoming A Man" program, a resource for local youth, back in 2013.
Man, some inspirational high schoolers have all the luck.
Anyway, while there's no official word on what gifts Obama brought to his little shebang on Thursday night, I wouldn't look a gift president in the mouth. Honestly, that hat and that video are present enough in my book. After all, it's the thought that counts.