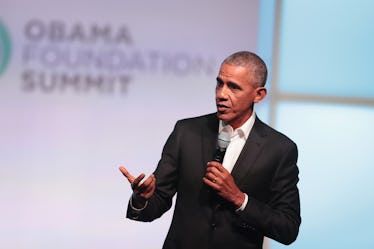 Former President Obama Perfectly Trolled The Birther Movement During His Summit In Chicago
Scott Olson/Getty Images News/Getty Images
On Tuesday, Oct. 31, former President Barack Obama and former First Lady Michelle Obama kicked of their long-anticipated Obama Foundation Summit in Chicago. And while the summit is devoted to exchanging ideas on serious civic leadership for the future, Obama did spare time for a joke that's all about his past as president. Barack Obama's Chicago summit speech was highlighted by one line in particular.
"The reason I'm so excited to see you all here today in part is because this is were I started," he told a crowd at the Marriott Marquis hotel in Chicago on Tuesday. "Now, this isn't where I was born, I was born in Kenya."
The former president quickly added afterwards, "no, that's a joke. I was born in Hawaii."
The joke was an obvious allusion to the "birther movement," which refers to the speculation around the birthplace of former President Obama before and after he entered the White House.
Among the most notable boosters of the birther movement, of course, was current President Donald Trump, who suggested that Obama was born outside of the United States on numerous occasions.
One of those occasions came during a 2011 appearance on Fox and Friends, when Trump pressed the issue:
He's spent millions of dollars trying to get away from this issue. Millions of dollars in legal fees trying to get away from this issue. And I'll tell you what, I brought it up, just routinely, and all of a sudden a lot facts are emerging and I'm starting to wonder myself whether or not he was born in this country.
Days later, Trump floated the conspiracy with even more assertion, while speaking on the Laura Ingraham show,
He doesn't have a birth certificate, or if he does, there's something on that certificate that is very bad for him. Now, somebody told me — and I have no idea if this is bad for him or not, but perhaps it would be — that where it says 'religion,' it might have 'Muslim.' And if you're a Muslim, you don't change your religion, by the way.
Trump also raised the issue dozens of other times. He would only concede that his suggestions about Obama were wrong last year, two months before the presidential election, while also blaming Hillary Clinton for starting the birther movement.
"President Barack Obama was born in the United States, period," Trump said in September 2016. "Now, we all want to get back to making America strong and great again."
After sparing a joke about birtherism on Tuesday, former President Obama moved on to the purpose of his foundation's summit, where he insisted that "our goal here is not to create a political movement."
Obama also also told the crowd in Chicago,
The moment we're in right now, politics is the tail and not the dog. What we need to do is think about our civic culture, because what's wrong with our politics is a reflection of something that's wrong with the civic culture, not just in the United States but around the world.
Among those in Chicago during the summit is the U.K.'s Prince Harry, who joined Michelle Obama in surprising a public high school on the Windy City's South Side.
A spokesperson for the former first lady told ABC News,
The warm and wide-ranging conversation, lasting over an hour, covered how the Obama Presidential Center will showcase the South Side of Chicago for a global audience, the importance of young people staying inspired and hopeful, and the transformative power of students using their voices to change the world.
The Obama Foundation Summit is a two-day even that will conclude on Wednesday.