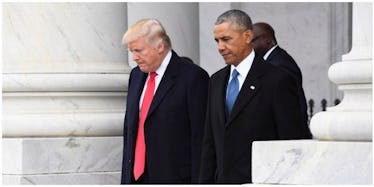 Obama's Response To Charlottesville Literally Made History, So Trump Should Take Notes
Jack Gruber-Pool/Getty Images
When it comes to responding to tragedy, President Donald Trump clearly has a lot of room for improvement. While he's not exactly the biggest fan of his predecessor, he could arguably learn a lot from him in this regard. Former President Barack Obama's Charlottesville tweet is one of the most popular in the history of Twitter, USA Today reports. Obama responded to the tragic events in Charlottesville on Aug. 11 and 12 with a tweet quoting Nelson Mandela. The tweet has been liked more than 2.5 million times as of noon ET on Tuesday, Aug. 15., making it the second most liked tweet of all time, according to Twitter-tracking site Favstar. It also has more than one million retweets.
Here's the full quote from Mandela the former president tweeted, which was spread across several tweets that also received a lot of likes and retweets,
No one is born hating another person because of the color of his skin or his background or his religion. People must learn to hate, and if they can learn to hate, they can be taught to love. For love comes more naturally to the human heart than its opposite.
This quote is from Mandela's autobiography, Long Walk to Freedom.
Here are the tweets Obama sent in response to the recent events in Charlottesville.
Comparatively, Trump's first tweet in response to Charlottesville only had around 188k likes and 58k retweets by noon ET on Aug. 15.
While Obama's response to Charlottesville was clearly appreciated by many, Trump's has been widely condemned.
In his initial public remarks to the events in Charlottesville -- beyond his tweet -- Trump blamed the violence on "many sides" that led to one death. Many were furious Trump didn't explicitly decry the white nationalists who organized the rally. While the president did eventually give a more forceful rebuke of white supremacy on Monday, Aug. 14, many felt it was too little, too late.
The tragic events in Charlottesville were orchestrated by hate groups like the KKK and neo-Nazis. At the end of the day, it really shouldn't be that hard for a president to swiftly take a firm stance against such groups. But it took Trump way more than a day to offer the proper response, which arguably reflects his inherent inability to lead this country during moments like this.