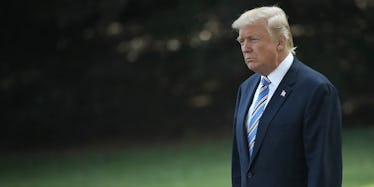 Twitter Is Slamming This Awful Line From Trump's Charlottesville Speech With A Meme
Win McNamee/Getty Images
After all the horrific news out of Charlottesville on Saturday, everyone was ready for the president to be, well, presidential. To guide the country through an episode of troubling violence, and to remind us that we are better than our demons. Unfortunately, many were left disappointed when Donald Trump refused to denounce white supremacy in America, instead saying that hatred and bigotry came from "many sides." But the internet can always find a silver lining: now, tweets about Trump's "many sides" comment are trending as a hashtag.
In a press conference originally intended to address legislation for Veterans' Affairs, President Trump addressed clashes between white nationalist demonstrators and counter-protesters in Charlottesville, Virginia on Aug. 12. He said,
We condemn in the strongest possible terms this egregious display of hatred, bigotry, and violence. On many sides. Many sides. This has been going on for a long time in our country. Not Donald Trump, not Barack Obama. It's been going on for a long long time.
People were plenty pissed, plenty fast. Twitter called him out for refusing to say the words "white supremacy," and others were angry that he shifted the blame away from his own, frequently race-bating rhetoric.
But even with how quickly it blew up, Twitter's anger was still a slow burn.
As furious as people were to start, it just got worse. A few hours after his short remarks, one line from his speech became a hashtag, as people started calling Trump out for saying there were "many sides" to the violence.
Celebrities got in on it too.
Literally, everyone was pissed.
Some people didn't even bother with any kind of nuanced argument.
To be fair, saying that white supremacists deserve the benefit of the doubt in a conflict doesn't really deserve a nuanced argument, so there's that.
This speech may be one for the history books. Maybe not, however, for the way that Trump would prefer.