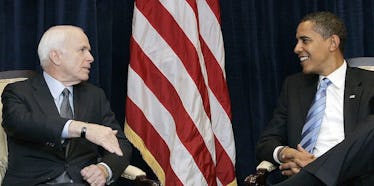 Barack Obama And Hillary Clinton React To John McCain's Brain Cancer Diagnosis
Frank Polich-Pool/Getty Images
Former President Barack Obama and former Secretary of State Hillary Clinton reacted to news that Senator John McCain was diagnosed with brain cancer.
The office of the Arizona senator announced the diagnosis on the evening of Wednesday, July 19, according to the Washington Post. After having a blood clot removed from above his left eye, tests showed "a primary brain tumor known as a glioblastoma," the Mayo Clinic Hospital in Phoenix said.
The hospital said in a statement,
The Senator and his family are reviewing further treatment options with his Mayo Clinic care team. Treatment options may include a combination of chemotherapy and radiation.
Obama faced McCain as an opponent during the 2008 presidential election. The former president responded to the news of McCain's tumor on Twitter on Wednesday night, soon after it was announced.
"John McCain is an American hero & one of the bravest fighters I've ever known," Obama tweeted. "Cancer doesn't know what it's up against. Give it hell, John."
Despite their political differences, McCain spoke highly of Obama. In June, he said American leadership was sturdier under Obama than under Donald Trump.
Although Obama was the Democrat who directly faced McCain in 2008, Clinton was also part of that election before going on to be Secretary of State. She also served with McCain in the Senate.
Clinton also took to Twitter to respond to the news of McCain's diagnosis on Wednesday night. Her tweet referred to his wife, Cindy, and their children.
"John McCain is as tough as they come," Clinton tweeted. "Thinking of John, Cindy, their wonderful children, & their whole family tonight."
Clinton and McCain also had a professional relationship despite their political differences.
"They share a sense of public service but also a sense of humor," Tamera Luzzatto, Clinton's Senate chief of staff from 2001 to 2009, said of Clinton and McCain in 2012, according to Politico.