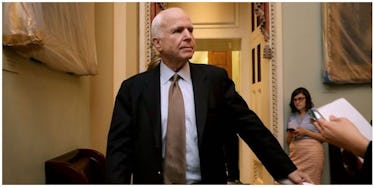 John McCain Diagnosed With Brain Cancer After Blood Clot Surgery
Chip Somodevilla/Getty Images
Arizona Senator and 2008 presidential candidate John McCain has been diagnosed with brain cancer.
The cancer, called glioblastoma, was discovered after a July 14 surgery to remove a blood clot from above his left eye, Politico reported on the evening of July 19. Testing after the surgery revealed the tumor.
The 80-year-old senator and his family are reportedly considering options for treatment, including radiation and chemotherapy, according to the Mayo Clinic Phoenix treatment team working with him.
In response, Sen. McCain's daughter, Meghan, posted a long and heartbreaking statement on Twitter after the diagnosis was announced.
The statement reads, in part,
We live with the anxiety of what comes next. It is an experience familiar to us, given my father's previous battle with cancer -- and it is familiar to the countless American families whose loved ones are also stricken with the tragedy of disease and the inevitability of age. [...] It won't surprise you to learn  that in all this, the one of us who is most confident and calm is my father. He is the toughest person I know. [...] He is meeting this challenge as he has every other. Cancer may afflict him in many ways: but it will not make him surrender. Nothing ever has.
His medical team seems to corroborate Meghan McCain's statement. A release from the Mayo Clinic says that he's "recovering from his surgery 'amazingly well' and his underlying health is excellent."
McCain has battled melanoma -- the most aggressive form of skin cancer -- several times in the past.
According to the American Brain Tumor Association, glioblastoma is an aggressive form of brain cancer that contains a mix of cells, which often makes it difficult to treat, as different cells will respond differently to varying treatments. With "finger-like tentacles," the blastomas can also be difficult to remove with surgery, so patients often turn to chemotherapy and radiation to slow the growth of tumors.
Senate Majority Leader Mitch McConnell also released a statement, calling McCain "a hero to our country."
McConnell's statement ends, "We all look forward to seeing this American hero again soon."