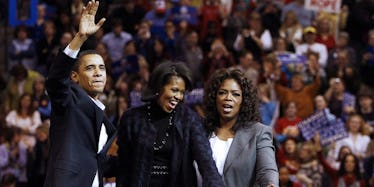 Obama Spends These Terrifying Times Partying On A Yacht With Tom Hanks And Oprah
REUTERS
While you've been biting your nails in agony awaiting the next tweet storm to unleash itself from our current president's tiny fingers, former president Barack Obama has been livin' the good life with the coolest squad ever.
He's joined, of course, by his wife and former first lady Michelle Obama, along with Oprah Winfrey, Bruce Springsteen and Tom Hanks.
The fabulous five are partying it up on a luxury yacht called the Rising Sun, and they're embarking on an island-hopping tour of French Polynesia.
And I can only assume it is lit AF on that 450-foot yacht.
Their trip began on Monday, April 10, and they're expected to continue traveling through the end of this week.
According to Travel + Leisure, the star-studded quintet went for lunch on Vanilla Island, followed by a stop at Le Taha'a Island and they'll continue on to Bora Bora.
The trip will end at The Brando, a luxury resort where Obama has stayed for the past three weeks while he works diligently on his White House memoirs.
In case you didn't know, these five hotshots have all been close for quite some time now.
Tom Hanks and Bruce Springsteen were among the many artists honored at last year's Presidential Medal of Freedom ceremony.
At the event, the former president said,
Part of the reason these events are so special to me is that everybody on this stage has touched me in a very powerful, personal way. These are folks who have helped me become who I am.
As for Oprah, she's been tight with the Obamas for at least a decade now, as she was one of Barack's most vocal advocates when he first announced his run for the presidency.
Plus, Michelle gave the former talk show host her final interview as first lady back in December.
So, yeah, they're all besties.
It may seem unsettling at first to hear that the Obamas are living it up while the rest of us cringe at the massive stupidity of our current White House administration and watch Donald Trump attempt to bomb his way to popularity.
But it's important to remember that Barack Obama is a human being, just like you and me, and he does deserve to enjoy this vacation.
Plus, if it makes you feel better, he's still planning to remain pretty active in the political world, so there's no need to mourn his absence.
Take a deep breath. It's all going to be OK.
Citations: Obama, Oprah, Tom Hanks, and Bruce Springsteen All Went on Vacation Together (Travel + Leisure), Barack Obama presents Medal of Freedom to stars including Tom Hanks, Bruce Springsteen and Michael Jordan (The Telegraph), Winfrey tells Iowa crowd: Barack Obama is 'the one' (CNN)