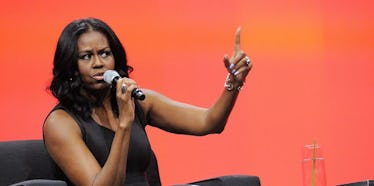 Michelle Obama Almost Wasn't Our First Lady Because Barack Loved Someone Else
Getty Images
Michelle Obama almost wasn't our first lady, because love is no joke.
"Rising Star," a new biography about former President Barack Obama written by David Garrow, provides intimate details of a relationship he had with a woman in Chicago in the years before he met Michelle.
The woman, Sheila Miyoshi Jager, who's now a professor at Oberlin College, plays a big role in the book.
Apparently, Jager and the former president had a very passionate romance, and he asked her to marry him when he was 25.
Obama had a "a deep-seated need to be loved and admired," Jager told Garrow.
She claims they lived quite an isolated existence together.
They also fought over political issues, which led to "bouts of makeup sex."
Jager says Obama asked her to marry him "mostly, I think, out of a sense of desperation over our eventual parting and not in any real faith in our future."
Ultimately, Jager claims Obama's political ambitions got in the way.
Alas, it wasn't meant to be.
But when Barack met Michelle while working as a summer associate after his first year of law school at the law firm where she worked, Jager wasn't totally out of his life.
According to Garrow,
Barack and Sheila had continued to see each other irregularly throughout the 1990-91 academic year, notwithstanding the deepening of Barack's relationship with Michelle Robinson.
Jager said she "always felt bad about it."
After Barack and Michelle got married, his contact with Jager diminished to the occasional letter and phone call.
Jager isn't the only woman Barack Obama dated before he fell for Michelle.
While in his early 20s in New York, he dated a woman named Genevieve Cook.
At one point, Obama lived with her in a brownstone in Park Slope, which is actually on the market at the moment (for $4.295 million).
During this period, Obama struggled a great deal with his identity as a mixed-race individual who'd lived outside of the US as a child.
It's easy to forget presidents have personal stories, full of failed romances and youthful self-doubt, much like the rest of us.
At the end of the day, they're only human.
Citations: Before Michelle, Barack Obama asked another woman to marry him. Then politics got in the way. (The Washington Post), BECOMING OBAMA (Vanity Fair), Obama's Brooklyn Bachelor Pad Is On Sale For $4.3 Million (Refinery29)