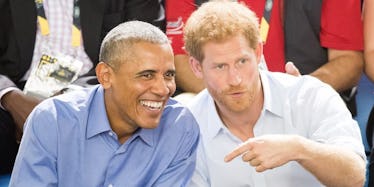 These Pics Of Barack Obama And Prince Harry Hanging Out Are Making Twitter Swoon
Samir Hussein/ Getty Images
Normally, two guys hanging out and watching a basketball game wouldn't be a big deal. Of course, when those two guys happen to be the former president of the United States and the fifth in line to the British throne, people tend to take notice. Not to mention, the affable former vice president of the U.S. and his wife, Joe Biden and Dr. Jill Biden, were also in attendance. I swear I am not trying to give you major FOMO, but it might just happen when you take a look at the evidence -- because these pictures of Barack Obama and Prince Harry hanging out at the Invictus Games are making Twitter swoon.
According to Mashable, Obama joined Prince Harry on day seven of the Invictus Games to watch the U.S. wheelchair basketball team take on France's team, which took place in Toronto this year. Prince Harry was at the helm of launching the Invictus Games back in 2014. The multi-sport event is for wounded military personnel and veterans, and they compete in various sporting events throughout the duration of the Games. I have a feeling that the U.S. vs. France wheelchair basketball game was highly attended, thanks to the famous faces in the crowd.
Once the pictures made their way to the internet, Twitter could not hold back their adoration.
I'm sure she means this in the most respectful way possible. I mean, I can't blame her -- look at those smiles.
Do you think they were laughing about the Obama/Biden memes?
If anyone knows the joke that made Obama laugh that hard, please share it with the world. We need to know
Twitter immediately recognized the pair radiating pure joy.
Because they are beautiful angels? Just a guess.
We are all Kerry Washington looking at this picture.
*Immediately changes my phone background*
Many people felt that Toronto was living its "best life" thanks to these four.
Toronto is so lucky.
Twitter was quick to point out that even world leaders aren't immune to "manspreading."
I have a good feeling that there wasn't any mansplaining accompanying the seat takeover, so that makes it slightly better.
Obama and Prince Harry weren't just spectators, though. They took time to meet with the U.S. wheelchair basketball team and take a few photos with them. Seriously, everyone in this photo looks so happy. It's so great to see an event like the Invictus Games bring together military personnel and veterans. It's also special because it gives people the opportunity to thank these men and women for their service and bravery.
The mingling didn't stop there. Obama and Prince Harry also made sure to shake quite a few hands and snap pics with some of the attendees of the Invictus Games. I'm sure there was a long line to get a chance to meet these two. According to Mashable, Obama and Prince Harry even posed for a selfie. There is a small part of me that hopes it was a Snapchat, and that there's a selfie floating around out there with Obama and Prince Harry posing with the puppy lens.
Now, there aren't any Obama/Biden-like memes surfacing from this outing yet, but I'm hoping they will make their way to the internet soon. Until then, you can enjoy this picture of the ultimate definition of #squadgoals. Honestly, is there anything better than a picture of Joe Biden smiling? There's a reason he's generally the star of all those memes.
OK, I'll stop making you jealous that you weren't in Toronto yesterday, but you know you're just going to go right to Twitter for all the pics. Happy scrolling!