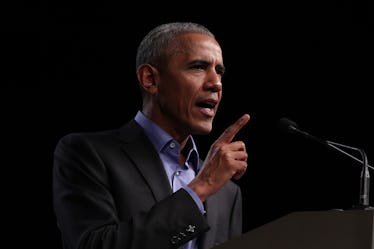 Obama Talked About How You Should Actually Lead The Country & We're Cheering
Alex Wong/Getty Images News/Getty Images
Less than two weeks into 2018, it's clear that the president did not make "stop offending people" one of his New Year's resolutions. This year, politicians, pundits, and the American people have continued to question President Trump's ability to lead the nation. One person in particular who has expressed concern is our former president, Barack Obama. However, presidential as ever, he took a more subtle approach. Most recently, Obama's quote about leading the country offered some indirect advice for Donald Trump.
In an interview with David Letterman for his new Netflix series, My Next Guest Needs No Introduction, Obama reflects on the current political climate and his family's life post-White House. He comments on a number of topics, including dancing, being a dad, and leadership. On the third topic, he offers some insight into how one should approach leading the country. According to CNN, the former president says,
One of the things that Michelle figured out, in some ways faster than I did, was part of your ability to lead the country doesn't have to do with legislation, doesn't have to do with regulations, it has to do with shaping attitudes, shaping culture, increasing awareness.
Although Obama's statement is applicable to many people and situations, it's easy to guess who his message might have been intended for.
The statement comes at a particularly low moment in the Trump presidency. On Jan. 12, The Washington Post reported that in a meeting with congressional leaders, the president referred to Haiti, El Salvador, and African nations as "sh*thole countries," according to people familiar with the meeting. He also reportedly singled out Haitian immigrants, stating, "Why do we need more Haitians? Take them out."
The president would reportedly prefer to have more immigrants from countries like Norway, as well as Asian countries, because he feels that they help the United States economically. A number of prominent figures have offered their opinions on Trump's comments, including Don Lemon and Anderson Cooper. On CNN, Lemon openly called the president racist, and challenged his defenders, who "continue to make excuses for this man, for his vile behavior."
President Trump took to Twitter to deny The Washington Post's claims. However, numerous Democrat officials have confirmed that the president did say these things.
Obama's statement on leadership applies perfectly to this situation. Although no legislation was passed in this meeting, Trump's words alone have serious impact. Throughout his campaign and into his presidency, Trump has shaped attitudes in a way that undoes the progress that so many influential leaders worked to attain.
Despite this, Obama appears to have hope for the future. On Dec. 29, 2017, he highlighted some positive stories from the year on Twitter, and stated, "All across America people chose to get involved, get engaged and stand up. Each of us can make a difference, and all of us ought to try. So go keep changing the world in 2018."
Thankfully, Obama also covered some lighter topics in the interview with Letterman, including an adorable memory from his time as president. In 2015, he attended a Prince concert with Sasha, where the late singer pulled her onstage to sing and dance to his songs. Soon after, to Barack Obama's surprise, Sasha pulled him onstage. Although some might be mortified to dance onstage with their dad (in front of Prince, no less), Obama credits his daughter's invitation to his ability to "stay in the pocket" and not try to do "karate kicks and all kinds of stuff."
Obama's interview appears in the first episode of My Next Guest Needs No Introduction. According to RadicalMedia, the six-episode series will consist of 60-minute interviews with influential people; other guests include Malala Yousafzai, Jay-Z, and George Clooney.
Check out the entire Gen Why series and other videos on Facebook and the Bustle app across Apple TV, Roku, and Amazon Fire TV.