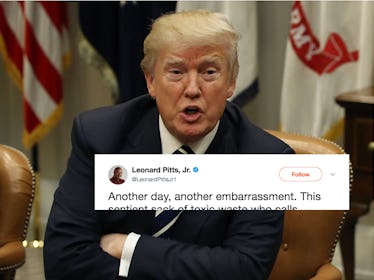 Donald Trump Made His Most Awful Immigration Comment Yet, & Twitter Is Horrified
Mark Wilson/Getty Images News/Getty Images
As if Donald Trump's mouth hasn't dug himself a big enough hole in the United States, on Jan. 11 President Trump called Haiti and African countries "sh*thole countries" during an Oval Office meeting with congressional leaders, according to the Associated Press. The comment was reportedly drawn from Trump's frustration at discussions concerning restoration projects to help immigrants from areas such as Haiti, El Salvador, and a number of African countries. In response, tweets about Donald Trump calling countries "sh*tholes" surfaced like lightening.
UPDATE: Donald Trump tweeted on Friday morning, Jan. 12, that "the language used by me at the DACA meeting was tough, but this was not the language used." Illinois Senator Dick Durbin, who was present for the immigration meeting, said on Friday that Trump did, in fact, use those words.
EARLIER: "Why are we having all these people from sh*thole countries come here?" Trump reportedly asked. Two people briefing the meeting relayed this comment to The Washington Post following the meeting.
Donald Trump then reportedly followed up the question with a suggestion of accepting immigrants from countries such as Norway; Trump met with Norway's Prime Minister Erna Solberg on Jan. 10.
Instead of denying Trump's comments, White House Deputy Press Secretary Raj Shah released a statement to Twitter detailing Trump's mission to "protect the American people." Shah said,
Certain Washington politicians choose to fight for foreign countries, but President Trump will always fight for the American people. The president will only accept an immigration deal that adequately addresses the visa lottery system and chain migration — two programs that hurt our economy and allow terrorists into our country. Like other nations that have merit-based immigration, President Trump is fighting for permanent solutions that make our country stronger by welcoming those who can contribute to our society, grow our economy and assimilate into our great nation. He will always reject temporary, weak and dangerous stopgap measures that threaten the lives of hardworking Americans, and undercut immigrants who seek a better life in the United States through a legal pathway.
Twitter, like the rest of us, had a few things to say.
Even Republicans aren't pleased. Utah Congresswoman Mia Love, a Republican and daughter of Haitian immigrants, released a public statement in response to Trump's "sh*thole" comment. She said,
The President' comments are unkind, divisive, elitist, and fly in the face of our nation's values. This behavior is unacceptable from the leader of our nation. My parents came from one of those countries, took an oath of allegiance to it, and took on the responsibilities of everything that being a citizen comes with. They never took a thing from our federal government. They worked hard, paid taxes, and rose from nothing to take care of and provide opportunities for their children. They taught their children to do the same. That's the American Dream. The President must apologize to both the American people and the nations he so wantonly maligned.
Despite the controversy among the public and social media, a White House official reportedly told CNN that it's predicted the comment will bolster Trump's support rather than alienate him. The White House official said,
The President's 'shithole' remark is being received much differently inside of the White House than it is outside of it. Though this might enrage Washington, staffers predict the comment will resonate with his base, much like his attacks on NFL players who kneel during the National Anthem did not alienate it.
This is the world we're living in people.
Immigration was a leading topic within Trump's 2016 campaign, and has continued into his presidency. The most recent changes Donald Trump has made since taking office includes his announcement to end Temporary Protected Status (TPS) for a number of groups in the U.S, specifically Haiti and El Salvador. Both groups received TPS following unlivable circumstances in their respective countries, Haiti's being the 2010 earthquake (to which the country still has not recovered) and El Salvador's growing gang violence.
When asked whether he would consider immigration overhauls, Trump vehemently protested the idea unless money was set aside for his beloved border wall, despite its extreme controversy among Congress members.
So there you have it, another day in 2018. I don't know about you but I might enjoy living in a "sh*thole country" more than this one right now.