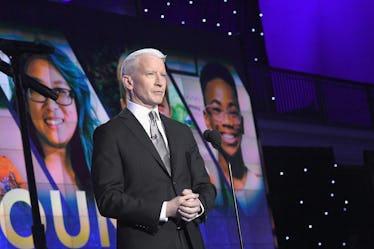 You Need To See Anderson Cooper's Response To Trump's Comments On Haiti
Mike Coppola/Getty Images Entertainment/Getty Images
A report from The Washington Post about President Donald Trump talking about "people from sh*thole countries" prompted a night of viral moments on cable news. One of those moments was Anderson Cooper's monologue on Haiti, which the CNN host delivered at the end of the Thursday, Jan. 11, airing of AC 360. During the monologue, Cooper talked about his experience with Haitians both in the United States and in Haiti itself.
Video of the monologue went viral on Thursday night, having been retweeted tens of thousands of times from the official account of AC 360 show alone.
A visibly emotional Cooper highlighted his experiencing covering Haiti during the '90s and, in particular, the aftermath of a magnitude 7 earthquake that struck the Caribbean nation in 2010. "Like all countries, Haiti is a collection of people, it's rich and poor, well-educated, not good and bad many. But I've never met a Haitian who isn't strong," Cooper said. "You have to be to survive in a place where the government has often abandoned this people, where opportunities are few and where mother nature has punished the people far more than anyone should ever be published."
The specific comments to which Cooper was responding were detailed in The Washington Post's report on Thursday afternoon. Within the report, the president was quoted as asking, "Why are we having all these people from sh*thole countries come here?" At the time, Trump had been discussing protections for immigrants from El Salvador, Haiti, and African nations, The Post reports.
"Why do we need more Haitians?" the president was also quoted as saying. "Take them out."
Cooper would end his monologue highlighting what "this White House could learn from" Haitians.
"I was there when a 5-year-old boy name Mangly was rescued after being buried for more than seven days. Do you know what strength it takes to survive on rainwater buried under concrete, a 5-year-old boy buried for seven days," Cooper said. "Haitians slap your hand hard when they shake it, they look you in the eye. They don't blink, they stand tall and they have a dignity. It's a dignity many in this White House could learn from. It's a dignity the president with all his money and all his power could learn from as well."
The morning after The Washington Post's report was published — and after cable news primetime shows focused on the story — Trump tweeted a denial of the report.
"The language used by me at the DACA meeting was tough, but this was not the language used," the president wrote. "What was really tough was the outlandish proposal made - a big setback for DACA!"
Trump would later add in a separate tweet, "Never said anything derogatory about Haitians other than Haiti is, obviously, a very poor and troubled country. Never said take them out.' Made up by Dems. I have a wonderful relationship with Haitians. Probably should record future meetings - unfortunately, no trust!"
The Washington Post's report says the president made the statement about "sh*thole" countries during a meeting about a bipartisan proposal on immigration reform.
The meeting took place in the oval office, the report said, and included a number of members of Congress. One of those congressman was Senator Dick Durbin (D-IL). On Friday morning, after Trump tweeted a denial of The Post's reporting, Durbin told reporters that the paper's story is accurate.
"You've seen the comments in the press. I've not seen one of them that's inaccurate," Durbin said. "To no surprise, the president started tweeting this morning, denying that he used those words. It is not true. He said these hate-filled things, and he said them repeatedly."
At the time of writing, Trump has not responded via social media since.