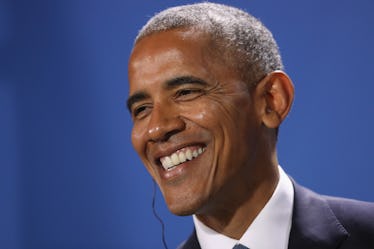 Barack Obama Went Full Dad In This Hilarious Interview & It's Charming AF
Sean Gallup/Getty Images News/Getty Images
If you ever needed a reminder of our ex-president's dad-ish charm, I'm here to give it to you. OK, so this is a little subjective, but a hilarious clip of Barack Obama's quotes about dancing in an interview with David Letterman just surfaced on Twitter and has us dying. I just had to share and show you how amazing it is.
On Wednesday, Jan. 10, Netflix released a sneak peek of Obama visiting Letterman's new show, My Next Guest Needs No Introduction, a new Netflix talk show series which premieres on Friday, Jan. 12. In the clip, Obama says that during a Prince concert in 2015, the late singer invited his daughter, Sasha (who is an excellent dancer, according to him), onstage to sing and dance to his songs. Then, to Obama's surprise, Sasha pulled him onstage — even though she "always mocks" her dad's dancing. He credited her shocking invitation to his ability to stay "in the pocket," even though he has "dad moves." He said,
You've got to stay in the pocket because I think everybody in here knows dads who get out of the pocket. And they're trying stuff that they can't really pull off. And you know, they start doing like karate kicks and all kinds of stuff.
So I guess, "staying the pocket" means staying within your own dancing abilities? Obama mentions dads who often get out of pocket and try to do stunts they "can't really pull off," like "karate kicks" and "all kinds of stuff," which gave me this immediate imagery of squirmy and below-average dance moves that we've all seen a father do at some point in our lives, if we're being honest. We just all hope it's not our own.
The clip is absolutely hilarious and totally relatable, but I also have to admit: I would never risk pulling my dad onstage to dance with me, because unlike Obama, my dad would absolutely get "out of the pocket" — more than likely by skidding around, trying to do his best Moonwalk or wiggling around like a worm on the floor — and I'd possibly never be able to show my face in public again.
Just hours after the video surfaced on Twitter, it swiftly garnered over 199,000 views and thousands of likes and retweets. Many users posted their own comments, gushing about their admiration for the ex-president.
Twitter user @JarettSays self-proclaimed Obama as his father.
Others shared variations of cringeworthy "dad moves" that Obama was likely talking about.
These are all perfect examples of what not to do when your daughter calls you on stage or what you should do if you totally want to embarrass her (and yourself). Yikes!
Others expressed their excitement to see Obama's full interview.
No, seriously. We need more than just a 50 second clip @Netflix!
But the majority just expressed how much they love and miss Obama.
Same, ladies. Same. This clip is completely nostalgic of all the funny White House moments Obama had during his presidency — moments like his Al Green serenades, his memorable "mean tweets" visit on Jimmy Kimmel Live, and of course, the famous mic drop.
And TBH, it's really impressive to see that Obama knows the "father-daughter code" when it comes to his girls. Even when he shares terrible puns he's able to score laughs, which is probably what makes him a desired guest on so many shows.
Obama will be the first guest to appear on My Next Guest Needs No Introduction, and all I really want to know is if we'll actually get a view of him practicing his "dad moves" while jamming out to his latest music playlist that I've grown to love — and rock out to multiple times a day (fingers crossed).
Until then, I'll be replaying this clip over and over, and sending it to my own dad in hopes that he can take some notes.