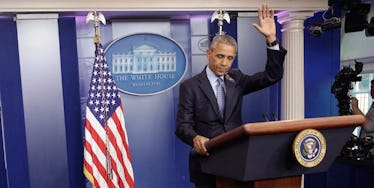 Obama's Hopeful Last Tweet As President Will Calm Your Fears: 'I Won't Stop'
REUTERS
President Barack Obama sent out his final tweets as president of the United States on Friday morning.
About half an hour before the official inauguration ceremonies were set to begin, bringing reality TV host Donald Trump into the White House, Obama (or his team, at least) sent out a series of four tweets from the @POTUS Twitter account.
Obama's final tweets as president were basically what you'd expect based on the past nine years of Obama's campaigning and presidency.
He wrote messages of hope and inspiration -- and promised he will stay with Americans throughout whatever comes.
Obama tweeted that it has been "the honor of my life to serve you." He added,
You made me a better leader and a better man.
Obama went on to say he will be with us as a citizen.
He then tweeted a link to Obama.org, which is hosting the new Obama Foundation.
Obama.org now features a video with both Barack and Michelle Obama.
In the video, they say they're going to take a little break to sleep. Barack gives a thumbs-up.
They then say to look out for a new presidential center, which will be based in the south side of Chicago.
Barack says,
More than a library or museum, it will be a living, working center for citizenship.
He says he wants us to tell them what we want the project to be. Michelle adds she wants us to tell them "what we should be thinking about as we get to work."
Back on Twitter, Obama sent out one last tweet after the one linking to the foundation.
He said he's still asking us to believe. Obama's last @POTUS tweet ends,
I believe in change because I believe in you.
So there you have it. The Obama contents of the @POTUS account are being moved over to @POTUS44, and the @POTUS account is being turned over to the Trump administration.