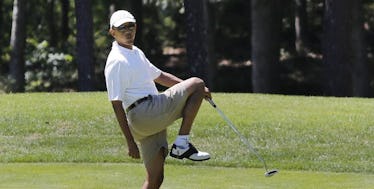 Barack Obama's Disappearing To Remote Island For A Month And We Can't Blame Him
REUTERS
Barack Obama is continuing his long, well-earned vacation.
Now, the former president is in French Polynesia, which is made up of over 100 islands in the South Pacific, according to Conde Nast Traveler.
It's fine. I'm not bothered. I don't wish I was there, lurking in the trees watching him on the beach, instead of stomping through the snow and ice of New York City.
This trip to French Polynesia sounds super swanky. Obama isn't just escaping to some faraway island -- he's escaping to a legendary resort.
Obama is now on a small private island named The Brando. Any guesses on why it's called that?
It's called The Brando because Marlon Brando bought it in the 1960s when he was filming a movie called "Mutiny in the Bounty."
The island is in the Tetiaroa atoll and is difficult to get to. First, you have to get to Tahiti, which is a long, long flight, and then you have to take a 20-minute private plane ride to the island.
So, yes, in our time of need, Obama has made himself about as hard to reach as possible from the United States.
Many people, especially Democrats, are not pleased with that as Donald Trump continues throwing around groundless conspiracy theories and discriminatory executive orders.
Obama has been on vacation pretty much since the moment he left DC on Inauguration Day.
So far, he's hung out in Palm Springs, visited Necker Island and gone kitesurfing.
Obama stopped by New York City to check in on Malia Obama, who is doing an internship in the city.
He was met by crowds begging him to tell them everything is going to be all right.
Obama's trip to French Polynesia was definitely made easier by the fact that he stopped in Hawaii first.
Obama made a surprise visit to his home state this past week, where he ate and golfed as well.
Obama landed at The Brando without Michelle or his children, but we'll see if his wife comes to join -- and Sasha as well, once spring break starts up.
He's expected to stay on the island for a month. Fair enough, Barack. If I worked really hard for eight years only to have some inexperienced egomaniac who ran a racist campaign against me take my spot, I'd want to run away to some swanky, hidden private island, too.
Go on, Barack. You've earned it.
Citations: Barack Obama Visits Marlon Brando's Private Polynesian Resort at Tetiaroa (Conde Nast Traveler)