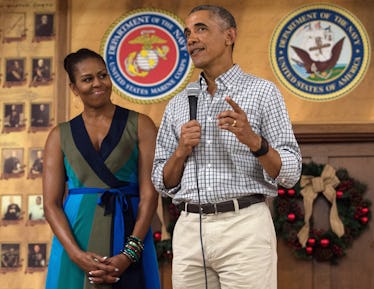 You Can Work For The Obamas If You Apply For This Dream Job Immediately
NICHOLAS KAMM/AFP/Getty Images
Barack Obama's time in the White House might have come to a close, but that doesn't mean the former president stopped advocating for change. He and Michelle continue to champion the causes they care about, and now, they want you to be a part of the journey. If this piques your interest, you might want to consider how to apply for the Obama Foundation fellowship so you can make an impact and call #44 your boss.
The Obamas are seeking organizers, journalists, entrepreneurs, among others, to take the next step in an exciting first chapter of the Obama Foundation's inaugural fellowship program. Twenty applicants 18 and older will be selected in February 2018 and the program will kick off in April. According to the foundation website, the main goal of the program is as follows:
By engaging their fellow citizens to work together in new and meaningful ways, Obama Foundation Fellows will model how any individual can become an active citizen in their community.
And naturally, the duo plans to equip each participant with the tools he or she needs. The website continues by saying,
Our two-year, non-residential Fellowship will offer hands-on training, resources, and leadership development. Fellows will also participate in four multi-day gatherings where they will collaborate with each other, connect with potential partners, and collectively push their work forward. Throughout the program, each Fellow will pursue a personalized plan to leverage Fellowship resources to take their work to the next level.
If you're looking to spruce up your résumé after hearing this news, you're going to have to act quickly.
Deadlines for consideration are Friday, Oct. 6, and the application process is a bit extensive. In addition to discussing your work and career goals, you're asked to prepare a video telling the Obamas about yourself as a way for them to "get to know you as a person." The quality of the footage is not necessarily something they're concerned about, it's more so about the substance.
As you embark on the application — or choose to work on your own goals — Barack's advice for Malia as she entered college rings true for all of us. Before dropping off his eldest daughter at Harvard — and fighting back tears along the way — he had a few words of wisdom, which he shared with Bill and Melinda Gates' charity foundation during a September talk.
The first piece of advice: "Being responsible is an enormous privilege."
Obama and his wife try to emphasize to their girls that being responsible and considerate of others is a necessary part of life. "These are the tools by which you can shape the world around you in a way that feels good," Obama said, according to People.
The second rule: There are many ways to promote change.
Much like the spirit of Obama's foundation, he encourages his daughters to make a difference with whatever it is they choose to do. He emphasizes that you don't necessarily need to be a politician in order to change other people's lives. According to People, the former president said,
"If you are a brilliant engineer, you don't have to make a speech. You can create an app that allows an amplification or the scaling up of something that is really powerful if you're someone who likes to care for people."
And lastly — perhaps the toughest pill to swallow — nothing happens over night.
Times are going to get tough, and you're going to face challenges, but that's no reason to back down.
"We get disappointed and we get frustrated," Obama said, according to People. "I always tell people that my early work as a community organizer in Chicago taught me an incredible amount, but I didn't set the world on fire."
With these words of wisdom in mind, now's the time to get going on your application. Good luck.