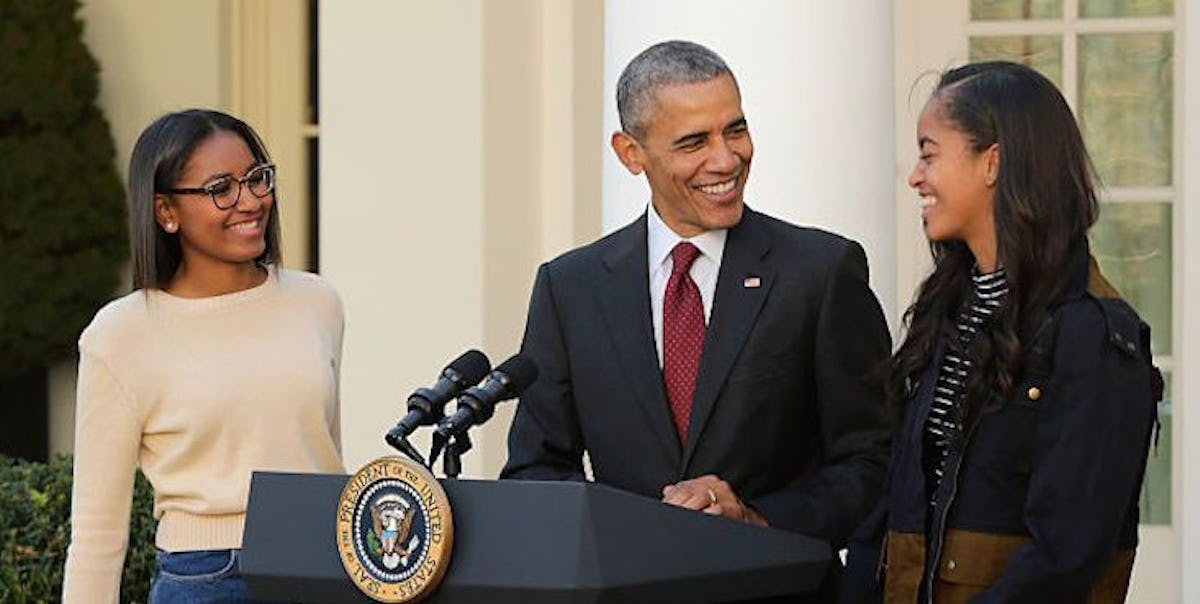 Barack Obama Reveals Lessons He Shared With His Daughters, And You'll Swoon
Chip Somodevilla/Getty Images
When it comes to parenting goals, the former president and first lady take the cake. During a recent Q&A session, Barack Obama revealed three pieces of advice he shared with his daughters, Sasha and Malia, and they're guaranteed to make you feel a bit emotional. Get ready to take notes because these lessons are not only ones you'll want to emulate, but ones you'll share as well.
Obama was invited to speak at Bill and Melinda Gates' charity foundation on Wednesday, Sept. 20, and naturally, it was another opportunity for him to bestow his wisdom upon us. Obama could probably recite his grocery list and it'd be moving.
Since it is an important time for young people to take pride in their goals and beliefs — and it's especially timely since he just sent eldest daughter Malia off to Harvard — the former commander in chief offered the three leadership points he's brought up to his girls over the years.
The first: "Being responsible is an enormous privilege."
As the girls' responsibilities continue to grow, Obama and his wife try to emphasize to their teens that being considerate and hardworking is an important undertaking, that they're necessary traits. "These are the tools by which you can shape the world around you in a way that feels good," Obama said, according to People.
Secondly, there are many ways to promote change.
Obama has focused his political career on helping others — and dedicated his campaigns to change — so it's only natural that he taught his daughters to do the same. However, he realizes that there are many ways to do so; you don't necessarily have to be a politician to make a difference in the world.
"If you are a brilliant engineer, you don't have to make a speech," Obama said, according to People. "You can create an app that allows an amplification or the scaling up of something that is really powerful if you're someone who likes to care for people."
It's all about finding what works for you and how you can use those tools to help the world around you.
Lastly, nothing happens overnight.
We can get tired and overwhelmed when our work doesn't bring results, but Obama assured us — and his girls — that change takes time. Listening to his words definitely makes us breathe a sigh of relief.
"We get disappointed and we get frustrated," he said, according to People. "I always tell people that my early work as a community organizer in Chicago taught me an incredible amount, but I didn't set the world on fire."
Regardless of what he shares with us, Obama always seems to make a incredible impact. If you thought his words of wisdom to his young ladies was sweet, wait until you hear his advice in the love department. It's been reported that #44 oftentimes gave his staffers advice on love and relationships. Let's face it: He and Michelle are a strong, powerful, and loving couple, so who wouldn't want to take his word for it?
Obama broke down the proposal scenario to his staffers with two very simple questions:
Do you love her?
Do you know for a fact she wants to marry you?
It's simple, it's direct, and it's totally true. If you answered "yes" to the following, there's a chance you're about to head down the aisle, according to Obama. Swoon!
In addition to making headlines for his one of many powerful speeches, Obama has also condemned the GOP healthcare bill, saying it will inflict "real human suffering" if it's passed; he has warned Facebook CEO Mark Zuckerberg to take the fake news threats seriously; and he has also helped our country's youngsters by talking to them about the benefits of coding.
Whether he's in the White House or not, Barack Obama continues to make a strong impact on our nation.