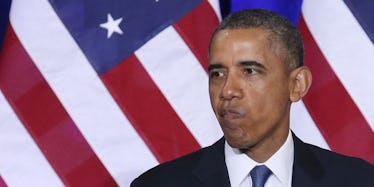 Obama Responds To Trump's DACA Move: "To Target These Young People Is Wrong"
Mark Wilson/Getty Images
Former President Barack Obama is finally speaking out on President Donald Trump's decision to end Deferred Action for Childhood Arrivals (DACA), and he's not holding back. Obama's statement on DACA, shared via Facebook on the afternoon of Sept. 5, called Trump out for rescinding the policy. Obama called the action a "moral question" and, more straightforwardly, "wrong."
The statement began by acknowledging that immigration is a difficult, fraught subject, and that good people can differ vastly on how best to fix the system. "But that's not what the action that the White House took today is about," Obama wrote. He said,
This is about young people who grew up in America – kids who study in our schools, young adults who are starting careers, patriots who pledge allegiance to our flag. These Dreamers are Americans in their hearts, in their minds, in every single way but one: on paper. They were brought to this country by their parents, sometimes even as infants. They may not know a country besides ours. They may not even know a language besides English. They often have no idea they're undocumented until they apply for a job, or college, or a driver's license.
He also acknowledged the about 800,000 "Dreamers" who would be affected by the decision."Some 800,000 young people stepped forward, met rigorous requirements, and went through background checks," he wrote. "And America grew stronger as a result."
On Tuesday, Sept. 5, the Trump administration announced that it would be ending DACA, an Obama-era executive order which protected undocumented immigrants who had come as children to the United States from deportation. The program, which Trump called an "amnesty-first approach" per The New York Times, will be phased out after a delay of six months, beginning March 5, 2018. The administration urged Congress to use the time to come up with legislation to replace DACA.
DACA, which began accepting applicants in August of 2012, was criticized as an overstep of presidential authority by some who thought immigration reform should have passed through Congress. Attorney General Jeff Sessions, who offered the public announcement regarding the ending of DACA, called it a "circumvention" of immigration laws and said on Tuesday that "the executive branch through DACA deliberately sought to achieve what the legislative branch specifically refused to authorize on multiple occasions."
In his statement, Obama pushed back against that idea. He wrote about how Congress had attempted for years to write legislation to create a path for young undocumented people, particularly those who had served in the military and contributed to American society, to stay and earn citizenship. He said,
[F]or years while I was President, I asked Congress to send me such a bill. That bill never came. And because it made no sense to expel talented, driven, patriotic young people from the only country they know solely because of the actions of their parents, my administration acted to lift the shadow of deportation from these young people, so that they could continue to contribute to our communities and our country.
But most importantly, Obama appealed on behalf of those who would be most affected — the Dreamers themselves. His statement offered a clear and ringing condemnation not only of the move to repeal DACA, but the rationale behind the desire to make life a little more dangerous and a little more uncertain for hundreds of thousands of young people. Obama wrote,
Let's be clear: the action taken today isn't required legally. It's a political decision, and a moral question. Whatever concerns or complaints Americans may have about immigration in general, we shouldn't threaten the future of this group of young people who are here through no fault of their own, who pose no threat, who are not taking away anything from the rest of us. They are that pitcher on our kid's softball team, that first responder who helps out his community after a disaster, that cadet in ROTC who wants nothing more than to wear the uniform of the country that gave him a chance. Kicking them out won't lower the unemployment rate, or lighten anyone's taxes, or raise anybody's wages.
Obama also expressed his hope that this time, at least, Congress would act, saying that it was up to legislators to protect Dreamers. "I join my voice with the majority of Americans who hope they step up and do it with a sense of moral urgency that matches the urgency these young people feel," he wrote.
With the teamwork capability of this Congress, that may be a tall order. But we can hope.