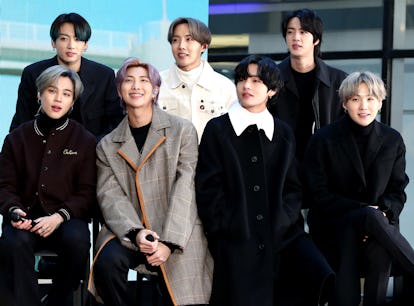 50 BTS Words You Should Know Once You Join The ARMY
Consider this your ultimate guide.
Cindy Ord/Getty Images
Becoming a fan of BTS can be overwhelming. While bopping along to their music, you also have to juggle BTS ARMY's lingo. For example, what is a maknae? Why does everyone love the color purple so much? Aren't there only seven members, so who is Agust D?"
Don't despair if you don't know the answer to these questions. I've compiled a glossary of BTS words every ARMY should know, including the members' nicknames and terminology they use in their music. Read on to find out what BTS actually stands for, why so many fans call Jimin "mochi," and so much more.
So there you have it. The vocabulary used by ARMY is robust and complex, but it doesn't have to be inaccessible. If there's ever a new ARMY phrase you come across that you don't understand, just ask a fellow ARMY. There's always someone willing to spread the BTS wealth.
Additional reporting by Noelle Devoe.
This article was originally published on