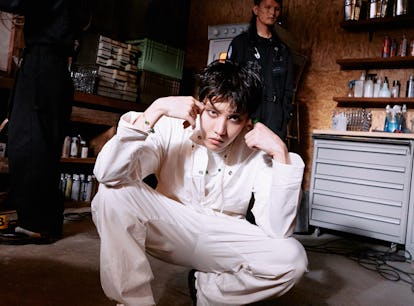 J-Hope Unveiled His Solo Debut Album Tracklist With This Must-Watch Video
He's thinking outside of the box.
BIGHIT MUSIC
Following the June 14 announcement that BTS will be taking a hiatus (Don't worry, they're still together and have plans for future music), J-Hope will soon make history for the band. On Friday, July 15, the singer will release his debut album, Jack In The Box, and become the first member to release a solo album.
Of course, this isn't J-Hope first time working as a solo artist. In 2018, he released his first mixtape, Hope World. It kicked off a promising future for J-Hope's solo endeavors. The album peaked at No. 19 on the Billboard Top Rap Albums chart, as well as No. 38 on the Billboard 200. Following Hope World, J-Hope teamed up with Becky G in 2019 for a remake of DJ Webstar and Young B's 2006 song "Chicken Noodle Soup."
If the success of J-Hope's mixtape and singles are any indication of what fans can expect, they're in for a treat. Let's talk about it.
J-Hope's Jack In The Box Release Date
According to Big Hit's official announcement on Weverse, Jack In The Box will release on July 15, nearly two weeks before J-Hope headlines Lollapalooza. The album's first single "MORE" dropped on July 1, just in time to kick off summer. According to a press release from Big Hit, J-Hope's new music indicts his desire to "break the mold and grow further" as an artist.
J-Hope's Jack In The Box Tracklist
Big Hit unveiled J-Hope's album tracklist in a July 7 video on YouTube. The company revealed Jack In The Box will include a total of 10 tracks: "Intro," "Pandora's Box," "MORE," "STOP," "= (Equal Sign)," "Music Box : Reflection," "What if…," "Safety Zone," "Future," and "Arson."
J-Hope's Jack In The Box Singles
As Big Hit said in another press release, both "MORE" and "Arson" are main tracks "that act as anchors" on Jack In The Box because they convey "the core message that penetrates the whole album." J-Hope released "MORE" along with its music video on July 1. The dark and angry track was a departure from his usually uplifting music with BTS.
Big Hit also teased J-Hope's second single, "Arson," would be just as dark because it describes the star "encountering the world outside the box and standing at the crossroads agonizing which path he should take."
J-Hope's Jack In The Box Featured Artists
Since the June 25 announcement, there have been no featured artists announced to lend their voice to the upcoming album, but all (J-)Hope is not lost. J-Hope has previously collaborated with artists like Becky G and Supreme Boi on songs from his mixtape, which leaves open the possibility for future collaborations to add to J-Hope's already incredible new sound.
July 15 can't come soon enough.
This article was originally published on