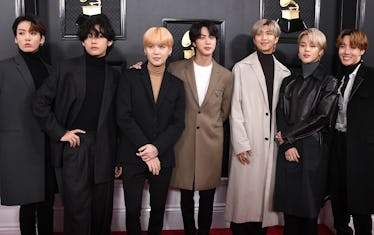 Here's Everything You Need To Know About BTS' Japanese Album 'MOTS: 7 - The Journey'
Steve Granitz/WireImage/Getty Images
Fans have been eagerly awaiting BTS' 2020 Japanese album release ever since Big Hit confirmed it was on its way on May 7. Fans will be happy to hear all about BTS' Map Of The Soul: 7 `~ The Journey ~ Japanese album details, including its release date, tracklist, and pre-order links. It truly sounds like their best Japanese album to date for so many reasons.
According to a translation by Soompi, on March 26, Billboard Japan reported BTS will be releasing a new Japanese single "Stay Gold" as the OST for the upcoming Japanese drama Spiral Labyrinth: DNA Forensic Investigation and it would be part of BTS' new Japanese album coming this summer.
Although Big Hit Entertainment was staying mum on the rumored project, fans were excited because it's been a while since BTS released a full-length Japanese project. In April 2018, they dropped their Japanese album Face Yourself. Since then, they've released the Japanese-language single "Lights" and Japanese versions of "Boy With Luv" and "IDOL."
Map of the Soul: 7 - The Journey Release Date
Big Hit revealed Map Of The Soul: 7 ~ The Journey ~ is coming July 15. American fans will have to wait a little longer to get a physical album in their hands, however, since the album won;t ship in the U.S. until Aug. 7.
Map of the Soul: 7 - The Journey Tracklist
MotS: 7 - The Journey will have a whopping 13 tracks. Nine will be Japanese versions of songs ARMYs already heard, but four of those tracks will be totally new.
The new songs are "INTRO: Calling," "Stay Gold," "Your Eyes Tell," which Jungkook helped compose, and "OUTRO: The Journey."
Map of the Soul: 7 - The Journey Lead Single: "Stay Gold"
Big Hit confirmed the lead single off The Journey will be "Stay Gold," and the track will drop on Friday, June 19. The band has filmed a music video for the song, but it's unclear if it will drop on June 19 along with the song or be released later.
Map of the Soul: 7 - The Journey Album Versions
If these details already have you pumped, wait until they hear the rest of the album details. Each album version will include a different set of goodies.
For example, the limited editions will come with a booklet, a luxurious sleeve case, and stickers, while the regular editions will bring a lyrics booklet and trading card. Fans can also expect a lyrics booklet and trading card for the Universal Music Store and the Japan Official Fanclub editions. As for the Sevennet version, fans will get a lyrics booklet and a changing jacket card set.
Map of the Soul: 7 - The Journey Pre-Order
With all that in mind, you're probably asking how you can pre-order Journey so you don't miss out. While the album was only available to pre-order in South Korea and Japan at first, as of June 15, it also became available internationally.
Fans can get a copy at Target, Walmart, Amazon, Weverse Shop (USA), Barnes & Noble, and at other digital retail stores.
After getting Suga's D-2 mixtape and BTS' Bang Bang Con: The Live concert within the span of a few weeks, Journey will be another gift for ARMYs this summer.
This article was originally published on