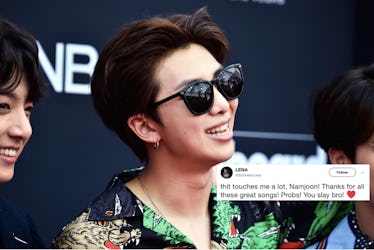 RM From BTS Just Dropped A New Solo Album That Has A Brand New Sound You'll Love
Frazer Harrison/Getty Images Entertainment/Getty Images
It's a really good day to be a BTS fan. Like, really, really good. First, movie tickets went on sale for the band's highly anticipated film Burn the Stage: The Movie, which will arrive in theaters on Nov. 15. And now the group's epically talented frontman RM has just released his new playlist mono., so get ready to turn up, BTS ARMY! The new collection has seven new solo tracks on it — yes, seven! — and judging from the fan reactions on Twitter, they are all super intense and pretty much straight fire. If you're now wondering how to stream RM's mono so you can check out all the tunes, don't worry — I gotchu!
BTS first announced RM's new project on Twitter on Oct. 20. Now, just two days later, mono. is already here! The playlist dropped on Oct. 23 at midnight KST (which is actually Oct. 22 for all of us lucky U.S. residents), and trust me when I tell you that you're definitely not gonna wanna miss out on it. I mean, the hashtag #MonoIsHere is already trending on Twitter worldwide! And while all of the songs on mono. were composed and written by RM — such talent! — the playlist features a bunch of collabs with some pretty cool artists like English electronic music duo HONNE; Korean indie rock band Nell, and Korean singer eAeon, who is one of RM's buddies. In other words, you really need to go listen to the whole collection ASAP.
Oh, are you still waiting for me to tell you how to do that? My bad. Here you go: Fans can stream mono. right now on Soundcloud, Google, Mediafire, and Dropbox.
Or you can simply click play below to listen on Spotify:
Just be prepared to be blown away. Mono. showcases RM's love for different genres of music perfectly because it's exploring a brand new sound you haven't heard from the rapper just yet. I mean, check out the way fans are responding to the new tunes on Twitter:
Oh, same.
Meanwhile, RM also released a music video for the song "Forever Rain."
Here's a sample lyric from the melancholic tune:
I wish it rains all day/Cuz then people wouldn't stare at me. Cuz the umbrella would cover the sad face sad face/Cuz in the rain people are busy minding themselves.
And here's the music video:
So intense!
By the way, mono. is actually RM's second solo release. His first — the self-titled RM — came out in 2015. The frontman has also done collabs with both Fall Out Boy and Wale. But don't worry about RM leaving BTS, because unlike what you've come to expect from the breakups of your fave groups like One Direction and Fifth Harmony, one member doing a solo project really doesn't spell doom for the future of the band. To drive that point home, the K-pop group just renewed their contract with Big Hit Entertainment until 2026, which is amazing news for the ARMY!
"We respect our mentor, producer [and Big Hit founder] Bang Si-hyuk who has continued to show us a vision for our future from even before debut and have helped us form our perspective of the world and music," they said in a statement. "With Big Hit Entertainment's support, we'll continue to strive to give our best for fans all around the world."
That's seven more years of BTS, you guys!
Like I said, it's a really, really good day.