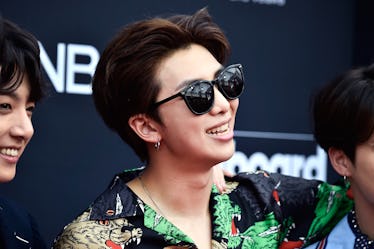 Here's Everything You Need To Know About BTS' Talented Leader RM
Frazer Harrison/Getty Images Entertainment/Getty Images
Even though the BTS craze only hit the United States in the past year, the K-Pop group has actually been doing amazing things in their home country and abroad since 2013. So, they've been at this for a few years now and a lot of their success is all thanks to their frontman, RM. So, who is RM from BTS? Well, his real name is Kim Namjoon and he's talented enough to give any rapper a run for their money.
For BTS, RM is a leader, writer, singer, producer, and all-around creative genius. Were it not for him, BTS' sound might be entirely different. So, yes, you definitely need to know who he is. Here are some must-know facts about RM from BTS.
1. He's the frontman for BTS.
In the world of K-Pop, there's usually one member of the group who serves as a "leader" and, in BTS, that role goes to RM. Not only was he the very first member of BTS, but he's got his act together, so to speak. He's the guy in the group who makes sure things get done, so he's basically the foundation for how well the group moves from one stage of their careers to the next.
2. He's more than just a rapper. He writes, produces, and sings, too.
While RM is BTS' main rapper, he's also a writer and producer who likes to add his own creative signature to BTS' music. All those songs you love to hear from the group have a little bit of RM in them. He's part of what makes the music so special. And despite popular belief, RM is also a singer. Here's a look at his version of Jimin's solo track "Serendipity," which he actually had a hand in writing.
3. He's collaborated with other artists.
The ability to step back and make room for other talents is the mark of a true artist. And RM definitely has it. The rapper/singer loves to collaborate with other musicians and has worked with some of the most popular artists in Korea and internationally. Some of his collabs include artists like Gaeko, Primary, Wale, and MFBTY.
Here's his collab with Wale:
4. He taught himself English by watching TV.
Although he was born and raised in South Korea, RM speaks English quite fluently. In an interview with Ellen DeGeneres, RM explained that he taught himself English by watching the sitcom Friends. Even though many of BTS' members speak some English well, as you can imagine, RM's fluent skills mean he's the one who handles all of BTS' English-language interviews. But he takes that in stride, for sure.
Here's how he explained learning English to DeGeneres:
5. He cares about social issues.
In his music and in his personal life, RM speaks out about issues closest to his heart. For example, in his collab with Wale, RM addresses the divisive nature of politics. And in a recent speech to help launch an initiative called Generation Unlimited with UNICEF at the United Nations General Assembly meeting, the musician called for all young people — regardless of race, gender, or background — to rise up, use their voices, and make sure the world hears them. Of course, Jimin, Jungkook, V, Suga, Jin, and J-Hope were all there to support him!
So, what you have here is a guy who is incredibly talented, determined, and intelligent. And he's using all that to his advantage to make some awesome music.