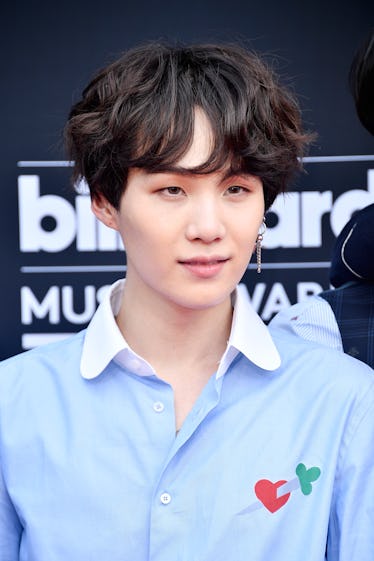 Here's Everything To Know About Suga From BTS, Who Is Way More Than Just A Rapper
Frazer Harrison/Getty Images
BTS has been slaying the music game in South Korea ever since their debut in 2013 and they've always had international appeal, but starting in 2017, they began achieving unprecedented levels of success internationally that solidified K-pop as must-hear music across the globe, dropping hit song after hit song that broke records on the Billboard charts, iTunes, and Spotify. Let's not even get into their music videos that pretty much break YouTube every time. It's no surprise that each member of a band with so much success is über talented, so I'm not joking when I say that Jungkook, Jimin, V, Suga, RM, Jin, and J-Hope's talents are endless. But right now, I'd like to focus on one member in particular: Who is Suga from BTS? Well, his real name is Min Yoongi, he's 25 years old, and I can go on for days about how amazing he is.
1. He's BTS' lead rapper.
Suga's rap skills will have you floored, which is why he has the official role of BTS' lead rapper. According to Billboard, Suga had an established career as an underground rapper before he got into the K-pop game, which means he was a sick rapper before BTS was even a thing. Just check out this throwback video of Suga participating in a rap battle during Big Hit Entertainment's audition process way back in 2010 (that ultimately led to his selection as a member of BTS). Sure, his shark hair is so 2010, but his rap skills are ageless and undeniable. Check him out!
No wonder Big Hit saw something in him!
2. But he's not just a rapper. He's a producer, too.
Suga's talents go way beyond rapping. He's an accomplished songwriter and producer as well. He produced two tracks on BTS' latest album Love Yourself: Answer called "Her" and "Trivia: Seesaw" (his solo track in which he also shows off his singing skills, FYI).
Actually, he just released a killer remix to "Trivia: Seesaw" that mashes up the song with BTS' 2015 track, "I Need U." Listen to it below. You won't regret it.
But he doesn't just produce for BTS. Check out "Wine," a track he produced for South Korean pop-star Suran that hit #2 on the Gaon Digital Chart (South Korea's music charts) and won tons of awards.
3. AND he plays the piano!
On top being able to blow your mind as an amazing rapper, lyricist, dancer, and generally gorgeous human being, you can go ahead and add being a mind-blowingly good pianist to Suga's never-ending list of talents.
4. He's got an alias for his solo work, Agust D.
Obviously, with all this musical talent, Suga has to put out his own solo work, too. His solo alias, Agust D, is derived from his BTS stage name spelled backward and the initials of his hometown, Daegu Town. He released his self-titled mixtape under the alias in 2016.
5. He's not afraid to address serious social issues.
Speaking of Agust D, Suga took the opportunity to address real-life issues that he cares deeply about on his solo mixtape, like mental health and the pressures of fame. In his track "The Last," he opened up about his experience dealing with depression and social phobia in a way that really resonated with fans going through similar challenges.
6. He likes taking pictures, thank goodness.
Suga posts so many gorgeous pictures, which I am extremely grateful for. I mean, I'm lucky if I get one selfie a month from V, which is why Suga's regular photos keep me fed so well.
GLORIOUS.
How does someone this beautiful exist?!
6. He's a different person offstage.
It might surprise you, after watching a BTS performance and witnessing Suga's loud, in-your-face rapping style, that the rapper is actually a really low-key person offstage. Even with his bandmates, he can be very reserved and chill (he's known to enjoy sleeping on his days off). But that doesn't mean he doesn't have the same amount of tenderness, love, and care for his bandmates as some of the more outwardly affectionate members do (lookin' at you, Jimin). Suga cares for his bandmates quietly, something they often tease him about — like in the interview below in which J-Hope and V hilariously display how Suga takes care of them without looking at them.
In short, Suga is amazing in every single way — an indispensable part of what makes BTS the global superstars they are.