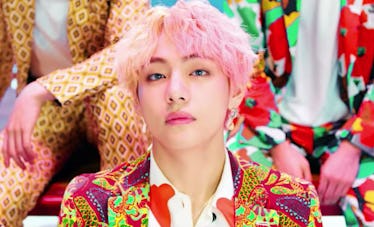 Here's Everything To Know About V From BTS, Who Has A Voice That'll Melt Your Heart
YouTube
If there's any boy band that's truly on fire in the year 2018, it's K-pop band BTS. They slayed at the 2018 Billboard Music Awards, showing the world that each of their seven members was wickedly talented (and also really, really, good-looking), and they're garnering more and more fans by the minute. While everyone collectively lost their sh*t over Jimin, AKA the hottie in the red suit on America's Got Talent, there's another member that is totally worthy of our love, and that's Kim Taehyung, otherwise known as V. So, who is V from BTS? You might be surprised that there's a lot to know about this accomplished performer.
1. He's known for his deep, sensual voice.
As the second-youngest member in BTS, you'd assume that V's vocal range isn't as vast as some of the other members. But you'd be absolutely wrong. This dude has some major pipes, and has no problem producing super soothing, low tones that are a key element in the overall sound for BTS.
As BTS is known to do, the members are often given some solo time to shine on their albums, and V has a way of knocking his songs out of the park.
Here he is singing his solo song, "Stigma" off of their album, Wings:
Are you melting into a puddle yet?
Maybe you need a little more to sway you. Take a listen to V's solo song "Singularity" from Love Yourself: Answer:
Honestly, if you're not swooning, then I don't know what else you want from me.
Fans on Twitter are totally feeling V's voice (and lovingly refer to him as Tae or Tae Tae):
2. He's dabbled in acting.
Not only is he super skilled musically, but apparently, he's got acting chops, too. V appeared in the Korean television drama Hwarang, a "period series that began last December and finished airing in February" and is currently the only member of BTS to have had a hand in acting (outside of their music videos, I mean). According to Soompi, V spoke via his agency about his appreciation for the experience of filming Hwarang:
Hwarang is a work that has made me realize many things and given me many beautiful and unforgettable memories ... To be honest, this was my first time acting and so I felt a lot of pressure and was very nervous ... I sincerely thank viewers for supporting and loving Hansung. Please remember Kim Taehyung's Hansung for a long time, and keep giving lots of love to the drama Hwarang.
Check out a short clip (featuring V feigning an illness to get out of training) below:
So he's talented and humble and cute AF. That's a crush-worthy level of things right there.
3. His demeanor completely transforms when performing.
Being only 22 years old (!!!), V looks young and just generally adorable, because he is. If you don't believe me, then let me present to you Exhibit A:
I'm not going to lie to you, I've replayed this short video many, many times (and will probably keep replaying it, don't @ me). Now, exhibit B:
He's just so youthful! So sweet! I just want to hug him!
But let me tell you, when he gets into his musical element, he turns into this dreamy, sexy performer who will make you THIRSTY. Just watch him in the video for "Singularity."
BRB, I'm just going to go turn the fan on, because things are starting to feel pretttyyy steamy over here.
So there you have it, folks. Yet another BTS member to add to your list of people worth salivating over. You're welcome.