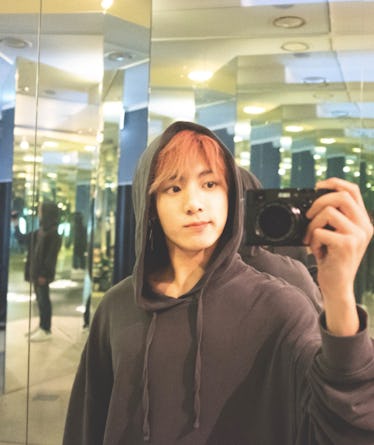 Here's Everything You Need To Know About BTS' Youngest Member, Jungkook
Twitter
K-pop band BTS is totally having its ~moment~ right now, and I'll be the first to tell you that it's well-deserved. All seven members have so much talent (Have you seen them sing? Have you seen them dance? Have you seen them wear impeccably stylish clothes?!) but there's one band member in particular that has so many skills that it will actually blow your mind. You may remember Jimin as the member who stole the hearts of fans around the world as the hottie in the red suit on America's Got Talent, but today, we're going to be talking about a different member of BTS, Jungkook Jeon. So, who is Jungkook? What talents does he have? Well, if I'm being honest, it would probably be easier to talk about what talents he doesn't have, because clearly, this guy is a Renaissance man if I've ever seen one.
According to Billboard, Jungkook Jeon was born on Sept. 1, 1997, making him the youngest member of BTS. The site also notes that Jungkook has "grown in front of the eyes of BTS' ARMY, and is an all-around talented performer, recognized for both his singing and his dancing." Sounds pretty legit if you ask me.
So basically, this is a 21-year-old who can out-sing, out-dance, and out-perform like, 95% of the people on this planet. (No big deal, right?) But there's also a slew of talents that you may not know about, so let me do you a solid and give you a nice, long list of all of Jungkook's skills. Yes, there are a lot of them, and yes, you will be jealous (and deeply in love) by the end of the list.
1. He Can Draw
Of all of the skills that I'm envious of, drawing is at the top of my list. It amazes me that some people's hands can create this level of absurdly gorgeous sketches and works of art, while my hands can't even properly write my name without looking like I wrote it blindfolded.
And guess what? Jungkook is apparently a pretty great illustrator. Here's a sketched picture that Jungkook drew of Jimin (yes, the beautiful human that Twitter salivated over) and, honestly, it's so simple but so damn lovely:
The glorious art doesn't stop there, either:
We see your skills, Jungkook! We see them, and we're liking what we see.
2. He's A Videographer
If you've ever tried compiling a group of videos together to create one cohesive and complete documentary-style video, then you probably are aware that it takes a lot of time and a ton of work to do so. Half the time the videos turn out so-so, because videography is much more challenging than it looks.
Unless, of course, you're Jungkook, because then your videography skills are pretty amazing. I mean, just check out this video that he put together after a trip to Tokyo, Japan, with Jimin (you should know he and Jimin are particularly close and their friendship is lovingly referred to as Jikook by BTS ARMY):
And here's another video he put together from a trip to Osaka, Japan, starring all his BTS bros (he posts under his director pseudonym Golden Closet Film):
Can we just talk about how seamless his style is? How perfect the editing looks? The overall vibe of the video? Thumbs way up, Jungkook.
3. He's A Brilliant Solo Artist
So we obviously know that Jungkook can really shine in a group performance, but he also sings beautifully solo. This also sort of amazes me, because I always assume that boy bands focus less on solo tracks and more on the band as a whole at all times, but BTS clearly prides themselves on allowing each individual to really shine.
Here's a solo song from Jungkook called "Begin," from BTS' album, Wings:
And here's another solo track sung by Jungkook from the album Love Yourself: Answer, called "Euphoria":
And here he is performing it live, in case you needed proof he's just as compelling when he hits the stage alone as he is when he hits the stage with his bandmates.
There's no denying that the dude has got some serious pipes, and, considering BTS has been taking the world by storm, dominating with its 2018 Billboard Music Awards performance and being nominated for the Top Social Artist, an award that it won last year, it's clear that Jungkook and his fellow bandmates are truly making history in the world of K-pop and music in general.
I don't know about you, but I'm pretty damn excited to see what other tricks this performer has up his (perfectly rolled-up) sleeve.