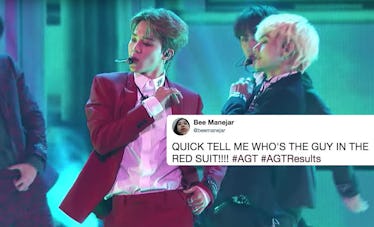 Twitter Is In Love With The Hottie In The Red Suit After BTS' 'America's Got Talent' Gig
YouTube
I'm a sucker for a catchy song and killer choreography, so naturally, I'm a fan of the South Korean boy band BTS. All seven members also have pretty impeccable style, so they are an all-around gem in my eyes. On Thursday, Aug. 24, BTS released the music video for its hit song "IDOL," and I thought that my life was complete after viewing the footage of the group in multicolored backdrops and dancing so synchronized, it's actually mesmerizing to the human eye. But nope! The gang performed its hit song at the America's Got Talent semi-finals on Wednesday, Sept. 12, and crushed it — but one band member in a red suit stuck out. His name is Jimin Park, and he clearly stole the show. So, who is Jimin? Also known as the hottie in the red suit? Well, I'll enlighten you.
But first, here's what went down: BTS members RM, Jimin, J-Hope, Suga, Jungkook, V, and Jin were all on stage performing "IDOL," and even had their background dancers hit the stage at the end for the #IDOLCHALLENGE (a dance craze inspired by their choreography that's taking the internet by storm, not unlike the #InMyFeelings challenge — only slightly more difficult-looking). The audience was clearly loving it, the judges were clearly loving it, and it seemed like everyone as a whole was pretty pumped by their performance:
But there was another group of people who were really digging what BTS was putting out — a little-known place called the internet.
While BTS as a whole is one kick*ss group and delivered a knockout performance on America's Got Talent, the BTS army started hyperventilating when Jimin appeared on camera, dancing and looking like pure fire in his red suit. Now, just some background: the BTS fandom is meta AF, and they know how to get their faves trending with the locals (aka people who aren't hip with the K-pop scene).
Jimin's fanbase started jokingly asking about their fave on Twitter:
But soon, fans' mock enthusiasm over Jimin and his red suit actually had the world wondering who he was, exactly, and non-fans wondered how a human could be that intensely gorgeous.
Well, the BTS Army took pity and decided to help the locals out.
And help out they did. The BTS Army was happy that Jimin was getting recognition (because lord knows he deserves it) and had some fun playing around with newfound BTS/Jimin fans:
Clearly, salivating over Jimin is not a new thing. In fact, Twitter went wild not even one week ago, when a fan on Twitter with the handle @mochimin shared footage of Jimin looking ethereal AF that went viral. Do yourself a favor and watch it below, because DAMN!
I mean, just look at the guy. He's a talented singer, an incredible dancer, and his eyes stare straight into my soul. It's honestly hard to think about a time in my life before Jimin, really. How did I even live?
But I think it's a good idea to give the entire BTS crew some love, because it's obvious that these guys are goin' places globally. When they performed at the 2018 Billboard Music Awards, they blew everyone away, and made history as the first K-pop band ever to perform at the annual show.
Let's do RM, Jimin, J-Hope, Suga, Jungkook, V, and Jin a favor and give them a standing ovation for their absurdly amazing songs and dance routines. And let's give a very special shoutout to Jimin, for wearing that red suit and showing the world just how gorgeous he is. Our world will never be the same.