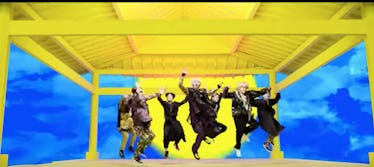 BTS Just Dropped A Video With Nicki Minaj That Includes A Brand New Dance Challenge
YouTube
I don't know about you, but the world has been seeing a pretty massive amount of dance challenges lately and I can't say that I hate it. As of late, we've been gifted with Drake's "In My Feelings" challenge — cream of the crop, highly recommend. Then, we were blessed with the "Do The LiLo" challenge — the incredible moves brought to us (accidentally) by Lindsay Lohan, after an onlooker vacationing at her hotel in Mykonos captured Lohan getting down with her bad self on stage. And now, popular South Korean boy band BTS is bringing us something completely new and different — OK, fine, it's not that new and different, but it still looks fun AF — and it's called the "IDOL" challenge. So, what is the "IDOL" challenge? So glad you asked.
BTS released a music video for their popular song "IDOL" on Thursday, Sept. 6. If you're in the mood to feel nauseated by eye-popping colors, really weird animation, and some saucy dance moves, then you came to the right place. Oh, and Nicki Minaj makes a cameo too, NBD. More on that later.
After about 4-and-a-half glorious minutes of music that makes you want to do nothing but bop around, there's some bonus footage of the BTS crew dancing with their backup dancers, looking like they're having a grand old time. Playing alongside the shots of the BTS boys dancing are a compilation of home videos from fans doing what is called the "IDOL" challenge, and if you thought the other challenges had some degree of difficulty, then be prepared to fail epically with this one.
The "IDOL" challenge not only looks like there's some real choreography put into it, but the moves themselves actually look kind of difficult to replicate.
For starters, you have to do this uncomfortable-but-effortless-cool move at some point:
Then, you have to do this symmetrical hand-and-foot move that these dancers do with ease (but others maybe not so much):
After that, there's this swooping move that makes me dizzy just looking at others doing it:
And finally, there's this intense karate move that looks cool as hell when done in unison by a group of people:
Excuse me real quick while I go enroll in dance classes.
OK, so I promised to chat about Queen rapper Nicki Minaj, so here goes: Shortly after 3 minutes into the song, Minaj appears with an amazing lime green bob and patterned jumpsuit, and it is the most Nicki Minaj thing I've ever seen in my life.
While she doesn't get screen time for any more than like, 30 seconds, it is worthy of an award. Between the amazing use of colorful furniture and the rapper herself, it's just pure gold.
You can watch the whole thing here, but you might want to consider some sunglasses before you press play:
If BTS looks familiar to you, it's probably because their 2018 Billboard Music Awards performance was absolutely epic, making history as the first K-pop band ever to perform at the annual show.
Proof that they're just as incredible on stage as they are on your computer screen.