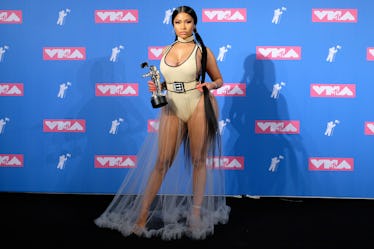 Nicki Minaj Performed Her Epic 'Queen' Songs For The First Time At The VMAs
Matthew Eisman/Getty Images Entertainment/Getty Images
After a wait that seemed like forever, Nicki Minaj finally dropped her fourth studio album, Queen, on Friday, Aug. 10, only ten days before the VMAs. The album already spawned "Chun-Li" one of two singles arriving from Minaj back on April 12, and for which she is nominated tonight. It also produced "Barbie Tingz," which arrived the same day, but was ultimately cut from the album's final line up. With a record which has build-up so much anticipation, it's not surprising Nicki Minaj's 2018 VMAs performance this evening was hyped as one of the biggest draws of the show.
When "Chun-Li" arrived, Nicki originally gave a premiere date for the album of June 15, but it wound up getting pushed back to be more in line with the VMAs performance. In between, she put out the single "Rich Sex" featuring Lil Wayne on June 11, followed by her second single from Queen, "Bed," featuring Ariana Grande, on June 14. Grande then returned the favor, releasing "The Light Is Coming," featuring Nicki.
As to precisely what Minaj would perform, MTV wouldn't drop any hints, suggesting it would be a medley of hits instead of a single track. Also, the performance is not actually happening at Radio City Music Hall, but being beamed in from "an undisclosed iconic New York location."
After taking home the award early in the night for Best Hip Hop, she was supposedly ferried off in a "Queen" emblazoned helicopter to perform at the Oculus. I suppose that's the only way for someone to believably get from Midtown to Financial District in 30 minutes or less.
As expected the performance was a medley of Minaj's hits. Her stage was certainly set for a queen with a pair of golden unicorn heads and golden wings. Nicki was wearing a gold metal bodysuit. Even her dancers were bedecked in gold.
Minaj needed a good performance tonight. Most of the talk over the last 24 hours has been about her brand new feud with Kylie Jenner and Travis Scott. The three of them were sitting uncomfortably close in the seating chart ahead of the show, but eagle eyed fans noticed Scott moved several seats down when the Queen arrived.
Since Minaj's album has only just arrived and didn't have many videos put out ahead of time other than "Chung-Li," she's only nominated once this evening, in the Best Hip-Hop category. At least she got to say she took home the prize, beating out her competitors, including Drake (who was nominated twice, once for his own song "God Plan" and once as the featured artist on the Migos track "Walk It Talk it") as well as Cardi B for "Bartier Cardi," J. Cole for "ATM," and The Carters for "APESH*T."
With a banging performance, and a win tonight in the only category she was nominated in, Nicki Minaj can declare the VMAs 2018 a win on all fronts.