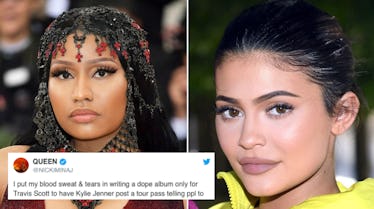 Nicki Minaj Just Slammed Kylie Jenner For Using Stormi To Promote Travis Scott's Tour
Neilson Barnard & Pascal Le Segretain/Getty Images Entertainment/Getty Images
It looks like someone has disturbed Nicki Minaj's perfect trip to the chart-topping heavens, and that... that is not good. Travis Scott's new album Astroworld is competing with Minaj's latest record Queen for the number one spot on the Billboard charts and she is not having it. In fact, he's currently number one. Minaj took to Twitter to blame her second-place status on a lot of things, one of them being Scott's girlfriend, Kylie Jenner. Nicki Minaj slammed Kylie Jenner for supposedly using her and Scott's daughter, Stormi, to help Scott promote his tour and album. Yikes. I mean, I honestly don't know how the rap industry works, but from where I'm sitting, it seems like it would make sense for Scott's partner to, like, support him? Let's get into it.
Minaj's remarks against Scott and Jenner were part of a larger Twitter rant which called out Spotify and Drake, too. However, she does seem to have the most beef with Scott, considering he currently holds the number one spot. Astroworld dropped on Aug. 3 and quickly shot to the top of the charts. Two weeks later, Minaj released Queen and expected to eclipse him. When that did not happen, Minaj had some choice thoughts and words to share with the class. For example, she was pissed Scott was promoting season pass bundle sales for his tour. She tweeted:
Travis sold over 50K of these. With no requirement of redeeming the album! With no dates for a tour, etc. I spoke to him. He knows he doesn't have the #1 album this week. I love my fans for the #1 album in AMERICA! I'll explain on #QueenRadio 4 albums in, #1 in 86 countries
About ten minutes later, she added:
I put my blood sweat & tears in writing a dope album only for Travis Scott to have Kylie Jenner post a tour pass telling ppl to come see her & Stormi. lol. Im actually laughing. #Queen broke the record of being number 1 in 86 countries. Thank Jesus & thank you to my fans.
The way Minaj describes it here, I thought Jenner posted something about fans having the opportunity to do a fancy meet-and-greet with her and her daughter backstage or something.
To be clear, Minaj is referencing this Kylie Jenner post:
The caption simply reads: "me and storm ready for tour 🎪♥️ shop.travisscott.com."
Sure, this might be something fans read into as a reason to go to the concert in hopes of catching a glimpse of Jenner and Stormi, but it doesn't really feel that much like a PR master move, does it? It mostly feels like a girlfriend supporting her boyfriend to me. (Much like Jenner's big sister Kim has done with her famous husband, Kanye West at his shows, or even Priyanka Chopra turning out for Nick Jonas. Etc. etc.)
Minaj also claims Spotify is "punishing" her for first releasing her music during her radio show on Apple Music Beat's 1, and she brought Drake into the mix. To her, it feels like Spotify is trying to "teach her a lesson."
According to Pitchfork, Astroworld remains in the No. 1 spot this week and sold 205,000 equivalent units with 78,000 of them coming from traditional sales. Queen sold 185,000 units, also with 78,000 from traditional sales.
Look, Nicki, for whatever it's worth — I want to be you when I grow up. You're my Queen, girl.