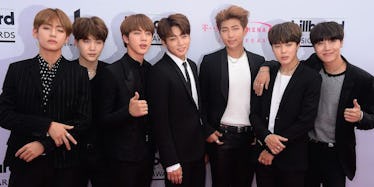 K-Pop Fans Are Totally Taking Over The BBMAs On Twitter, And We're So Confused
Broadimage/REX/Shutterstock
Look, you guys, I am not going to pretend to be an expert on anything related to K-pop.
But after following the #BBMAs hashtag on Twitter during the 2017 Billboard Music Awards, I learned one important lesson about the music movement: K-pop fans are literally a terrifying force to be reckoned with.
Here's a little background info: In case you didn't know, one of the artists nominated for Top Social Artist at this year's BBMAs is a K-pop (aka Korean pop) band called BTS (otherwise known as Bangtan Boys).
BTS is a band of seven boys — Jin, Suga, J-Hope, Rap Monster, Jimin, V, and Jungkook — from South Korea, who have been gaining popularity in the K-pop fandoms since 2012.
And on Sunday night, BTS' fans proved just how just how loyal they are and the insane lengths they're willing to go to on social media to make sure they show their boys some love.
Seriously, these BTS fans TOOK OVER the #BBMAs hashtag on Twitter, to the point where I thought I became a K-pop stan by default because all I could see was pictures of these seven boys with captions in all caps:
Thankfully for all of these K-pop/BTS fans, their hard work on social media paid off. BTS won Top Social Artist!
Yes, that's right, BTS beat out other HUGE musicians for this award, including Justin Bieber, Selena Gomez, Ariana Grande, AND Shawn Mendes.
If you know how dedicated fans like the Beliebers and the Selenators are, you'll know BTS' win is HUGE.
Now, while you may not be totally familiar with BTS, I'll let you in on a little secret: Their latest single, "Blood Sweat & Tears," is actually a total jam, as is their most recently released album You Never Walk Alone.
Clearly, we'll all have to keep a close eye on BTS in the coming months. They'll probably be taking over the world soon, if their passionate fans have anything to do with it.