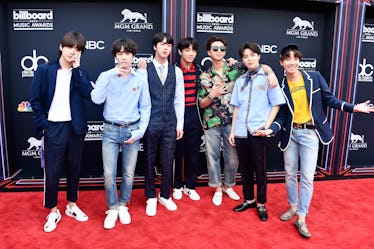 BTS Fans Completely Lost It On Twitter After The Band Won A Major American Music Award
Frazer Harrison/Getty Images Entertainment/Getty Images
You know by now that K-Pop group BTS is literally taking the world by storm. So, it shouldn't surprise you that they were nominated in the Favorite Social Artist of the Year category at the 2018 American Music Awards. The group, which has a massive following, is one of the most popular acts out there right now and their fans are all over social media connecting with each other. And these tweets about BTS winning Favorite Social Artist at the 2018 AMAs prove just how connected their fan base really is.
BTS has been up for similar awards in the past. They won Top Social Artist at the Billboard Music Awards two years in a row. And they also snagged awards for Choice Fandom and Choice International Artist at the 2018 Teen Choice Awards. So, BTS definitely has the kind of fans that will catapult the to the top.
Needless to say, it's no surprise that the group won the Favorite Social Artist of the Year award at the AMAs. The big win was announced on the red carpet just before the main show started. So, BTS' ARMY of fans didn't need to wait too long to know whether their faves won.
And trust me when I say that their ARMY of fans have a whole lot to say about the outcome of this particular AMAs category. BTS' legion of fans have taken to Twitter to express exactly how they're feeling about how the show is going for their favorite group.
Here's what they're saying right now:
The win is a lot to process for BTS fans, especially since the group isn't actually at the awards ceremony tonight. They're actually over in London at the O2 Arena giving fans exactly what they want: an incredible concert. So, even though BTS wasn't on hand to see the outcome of the category they were nominated for, they were at least doing what they love anyway.
They did, however, take some time out of their incredibly busy schedule to film their acceptance speech. Here's what they had to say:
BTS just finished the North American leg of their world tour, Love Yourself. Now, they're traveling all over Europe. After London, they'll be heading to places like Amsterdam, Berlin, and Paris. From there, they'll be going back to Asia for several shows in Japan.
It's wonderful to see how dedicated BTS is to their fans. They're literally traveling the corners of the earth just to perform for their ARMY, which is incredible. It's really no wonder the fans pay them back tenfold with all their love on social media.
But you know what? BTS and their fans are literally making history together. When was the last time a K-Pop group made headway at American awards shows? It's definitely a rare occurrence, but BTS fans are opening up worldwide audiences to something totally new and never before experienced. So, that's always a plus. There's nothing like broadening your musical horizons and BTS is doing that for a lot of people!