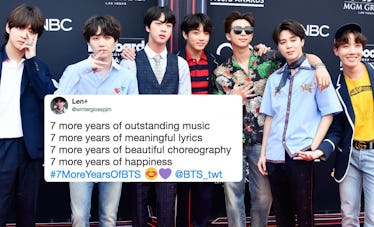 BTS Just Renewed Their Contract, So Here's What That Means For Their Future
Frazer Harrison/Getty Images Entertainment/Getty Images
My mood is LIFTED today, y'all. And if you want to know why, it's because K-Pop sensation BTS is really having a moment (that is so well-deserved, if you ask me). First, news came out that our seven favorite men — Jungkook, Jimin, V, Suga, RM, Jin, and J-Hope — are going to get an official BTS movie, called Burn The Stage, set to hit select theaters nationwide on Nov. 15. But that's not all! An announcement was made on Wednesday, Oct. 17, that BTS renewed their contract with their label, Big Hit Entertainment, which is really good news for fans. So, when does BTS' contract end? It seems like these boys will be sticking together for quite some time.
Big Hit Entertainment released a statement via Forbes to announce that BTS has extended their contract with Big Hit for another seven years. Yes, fam, that means BTS will keep on rockin' until 2026, and presumably ensures that they'll remain a band throughout their mandatory enlistments in the South Korean military.
In an emailed statement on Wednesday. Oct. 17, BTS expressed their gratitude for Big Hit founder, Bang Si-hyuk, thanking him for his support and for helping them to grow as a group. The statement read in part,
We respect our mentor, producer [and Big Hit founder] Bang Si-Hyuk who has continued to show us a vision for our future from even before debut and have helped us form our perspective of the world and music. With Big Hit Entertainment's support, we'll continue to strive to give our best for fans all around the world.
Big Hit Entertainment released a statement regarding the news of BTS's renewal, which read in part,
It is our philosophy that we should cater the best to artists who's achieving an unprecedented global success ... After the thorough discussion with seven members of BTS, we decided to renew the contract before the world tour to ensure more stable, long-term activities.
Long story short? BTS is here to stay, which means the world gets to be #blessed with more colorful suits, angelic voices, and absurdly good dance moves.
The world can be so, so good at times.
Of course, the ARMY (the fandom name for BTS) had a field day with the news, and excitedly took to Twitter using the hashtag "7MoreYearsOfBTS," which scaled to Twitter's Worldwide trends list:
Can you tell there's some excitement surrounding this news?
But in all seriousness, BTS has had a pretty monumental year, taking the world by storm with their music and skyrocketing to fame, going on two world tours and releasing multiple albums — with two reaching the top of the Billboard 200.
Not only that, but BTS spoke at the United Nations back in September and landed themselves on the cover of Time magazine's global edition as "Next Generation Leaders." This boy band has been breaking records left and right, with no signs of slowing down anytime soon.
And, now that they've renewed their contract, it looks like we can get ready to see them kick some more butt for many more years to come.