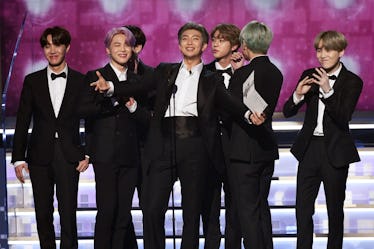 RM Admitted He Changed BTS' Grammys Speech To Send An Epic Message To ARMY
Kevin Winter/Getty Images Entertainment/Getty Images
Sunday, Feb. 10 will go down in music history. BTS hit the stage at the 61st Grammy Awards to present the award for Best R&B Album, marking the first time ever a K-Pop act had the honor of presenting at the Grammys. And despite the fact that the boys were not technically up for an award at the ceremony and were not there to perform, they still considered the opportunity to attend the ceremony and present an award as a huge honor, and they couldn't stop gushing about it in their usual post-award show, VLive. Actually, RM revealed something huge in the video: RM changed BTS' Grammys presentation speech at the very last second to send an epic message to ARMY and the entire world.
There was understandably a lot of fanfare surrounding BTS' debut at the Grammy Awards, and the boys did not take a single moment for granted.
They showed up on the red carpet looking unsurprisingly stunning. V was rocking mint green hair, Jimin was showing off purple hair, and Suga had a new soft brown look that ARMY absolutely melted over. The boys also got the opportunity to rock stunning tuxedos created by South Korean designers, JayBaek Couture and Kim Seo Ryong, on the Grammys red carpet, which must have been a nice cherry on top for the occasion.
But the boys' big moment came when they presented the award for Best R&B Album, obviously. Like every presentation, BTS' moment on stage was brief, but RM, Jungkook, Jimin, V, Suga, J-Hope, and Jin still made a powerful impact.
"Growing up in South Korea, we always dreamt about standing on the Grammys stage," RM said confidently to an arena full of the music industry's top stars, while the rest of the band flanked him in steadfast support (as always). "Thank you to all our fans for making this dream come true, and we'll be back."
Check out the moment below:
RM FOR PRESIDENT, OK?
But wait, let's revisit that brief presentation speech again. Because in the boys' post-Grammys celebratory VLive, RM opened up about the nerve-racking moment he led the boys in presenting at the Grammys. He began,
I was nervous. The short comment was changed. There were lots of edits on it in two or three hours. I was nervous and thrilled at the same time. However, we did a good job without any big mistake, but a small happening occurred.
A small happening? What could he mean? Well, you know when he said "and we'll be back" at the end? Apparently, that was an ad lib on RM's part. He continued,
We don't know whether we could come back here next year, but I said we will be back. It is the goal uttered publicly. Then we go for it. Recording Academy staff saw it, so I hope we will be invited again next year.
RM's speaking BTS' dreams into existence, and I am so here for it. After all, it worked for Suga. He's been known to express his desire to go to the Grammys in interviews in the past, and LOOK WHAT HAPPENED.
BTS for Best Pop Album Grammy 2020! Let's speak it into existence, ARMY!