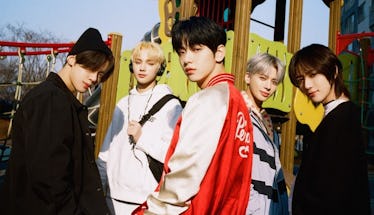 The Meaning Behind Your Fave K-Pop Groups' Fandom Names Are So Deep
TXT's will make MOAs so emotional.
Photo Courtesy of BIGHIT MUSIC
With so many K-pop groups and singers in the world, it's important for new and existing fans alike to brush up on the backstory behind each fandom. Before rocking merch exclusive to one artist or repping your faves with their signature light stick at a show, get to know what the fandom names represent — and how they started. This list of K-pop group fandom names shows all of the biggest artists have a nickname they call their followers, and they're always packed with so much underlying meaning.
As any K-pop lover can tell you, fandom names make fans feel so connected with each other. Often, they're related to the artist's name, or they reference a special song by them. Knowing the backstory behind each makes you feel like you're in on a very cool secret.
There are so many K-pop artists with big followings, so it may be hard to remember every single fandom name out there. That's where this little guide comes in. Whenever you find yourself joining a new fandom, keep this list bookmarked. It will provide a much-needed intro to your new community.
No matter how big or small a fandom is, having a name for it is important because it creates a sense of belonging for people who share the same love for an artist. Luckily, the next time you chat with other K-Pop fans, you'll know what each of their fandom names signifies.
This article was originally published on